Kaitlyn and Daniel met in highschool as they had similar classes, but it wasn't until they started dating that they found out their parents had known each other almost all of their life and they only lived a ten minute walk apart. They went on to keep their romance alive throughout university and after graduation went on an amazing road trip across the prairies and mountains to Vancouver. It was this roadtrip and all of the memories together in the mountains that inspired them to get married in the Rocky Mountains.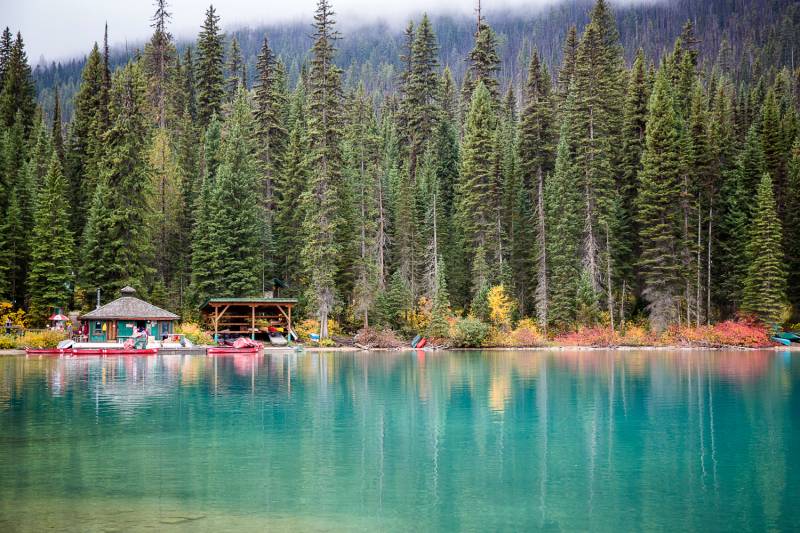 Kaitlyn and Daniel knew they wanted an intimate wedding and chose the breathtaking and famous Emerald Lake Lodge as their venue. They wanted to spend time together with their 12 guests (only immediate family and the bride's childhood best friend along with her fiance) at the luxurious lodge and take in all of the incredible autumn beauty of the mountains and emerald coloured lake. Since they both love the outdoors, they wanted mother nature to provide the beauty and backdrop for their wedding and kept the rest of the decor simple. They decided on a colour palette of deep purple and orange because they loved those two colours and wanted something that would work well with the vibrant colours of fall sprinkled throughout the forest.
Banff wedding photographer Kim Payant Photography was brought out to capture the wedding day, emotions and beautiful scenery perfectly.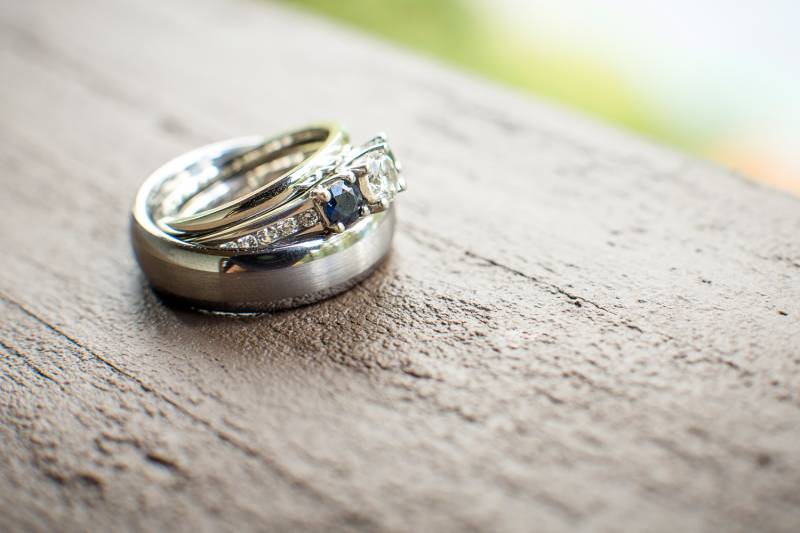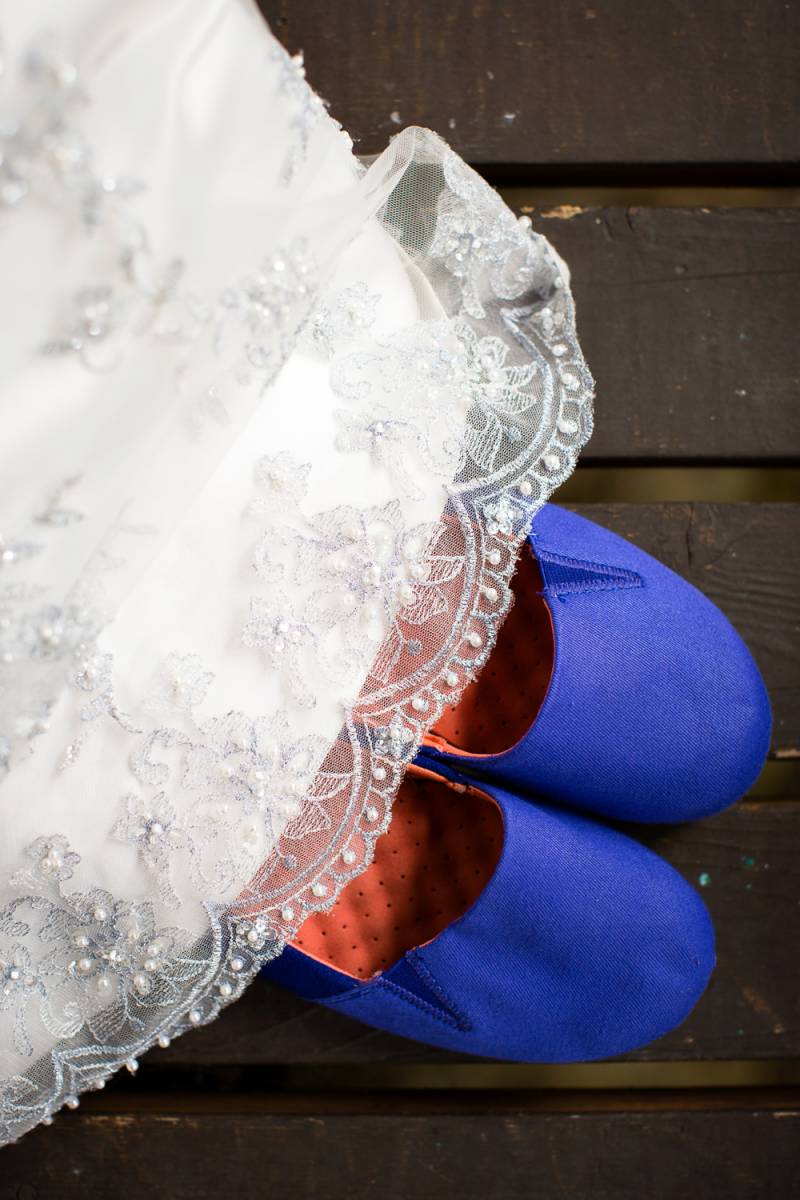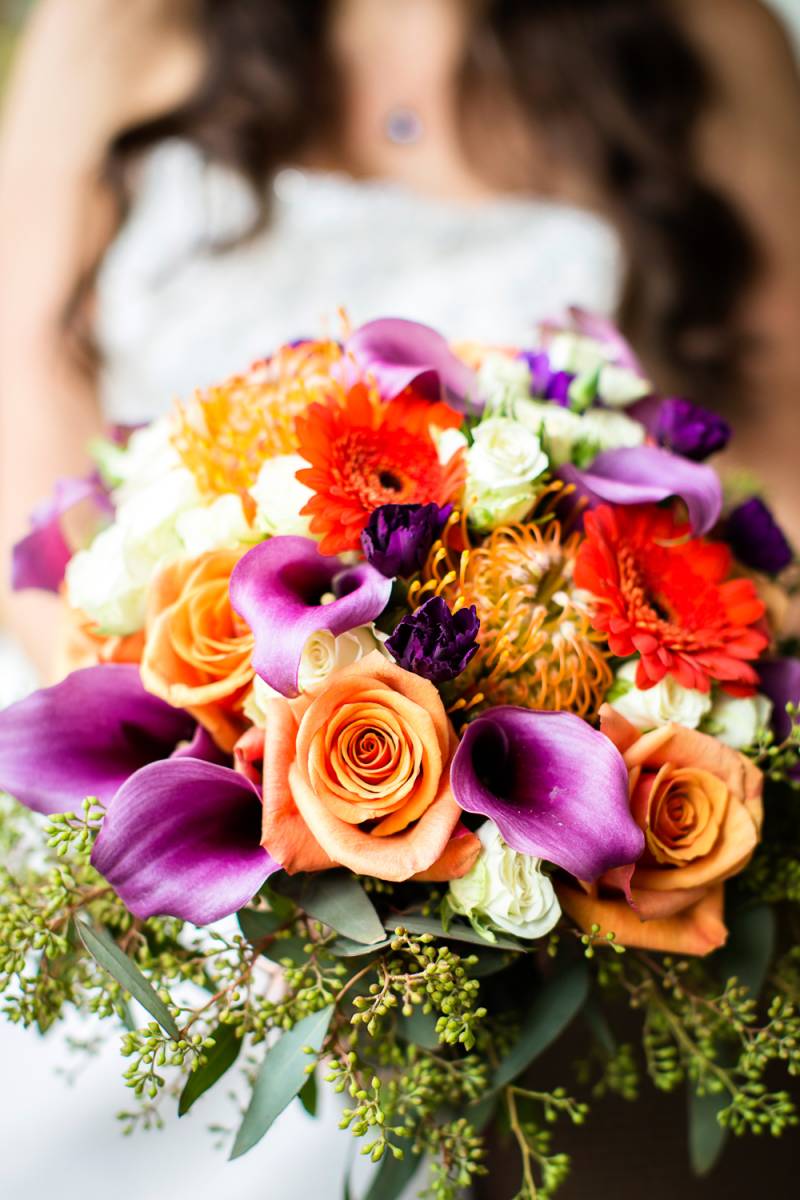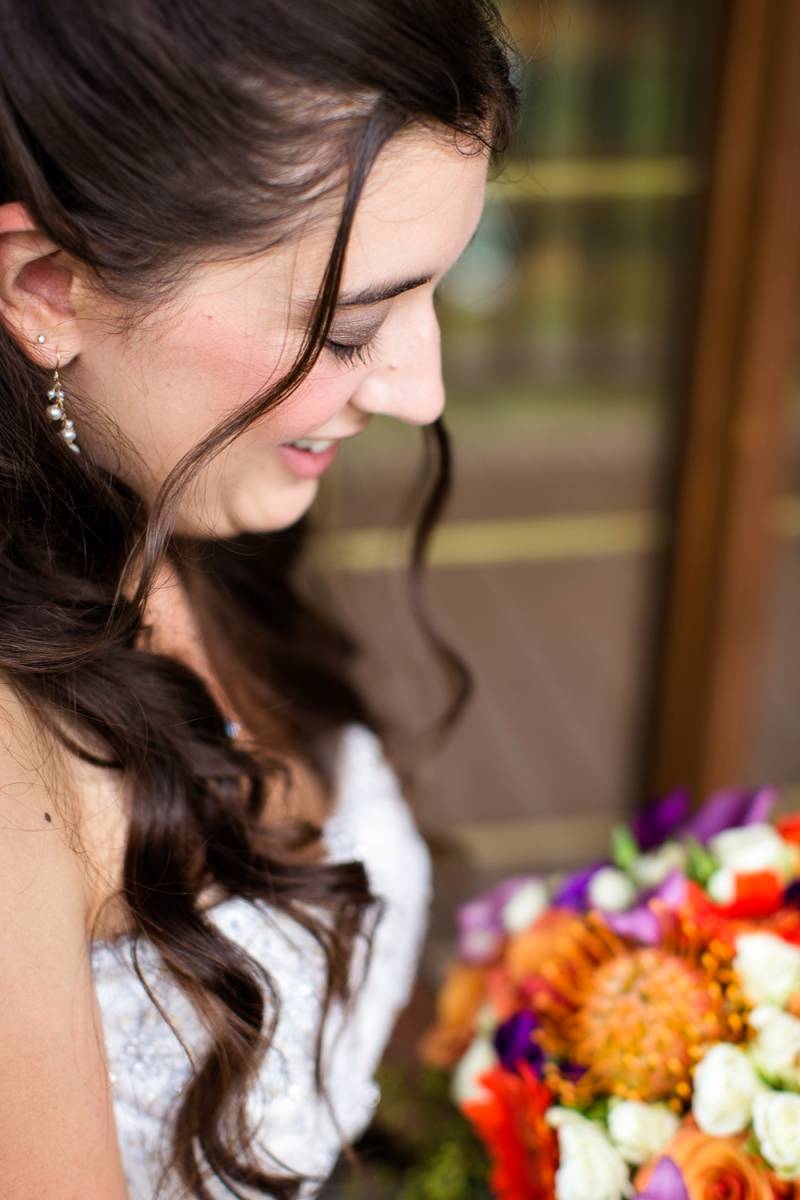 The wedding bouquet was filled with wonderful texture and vibrant shades of purple and orange that coordinated perfectly with the wedding and looked wonderful against the golden leaves and natural beauty of the forest and mountains.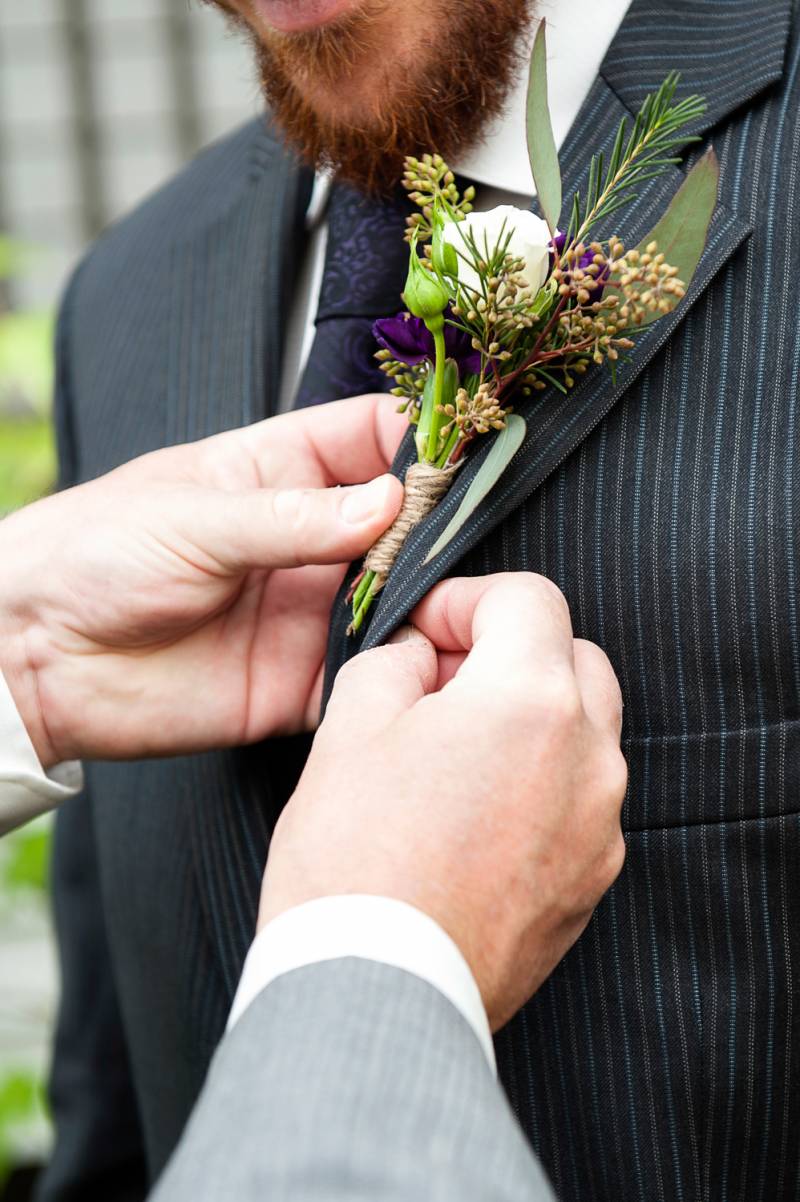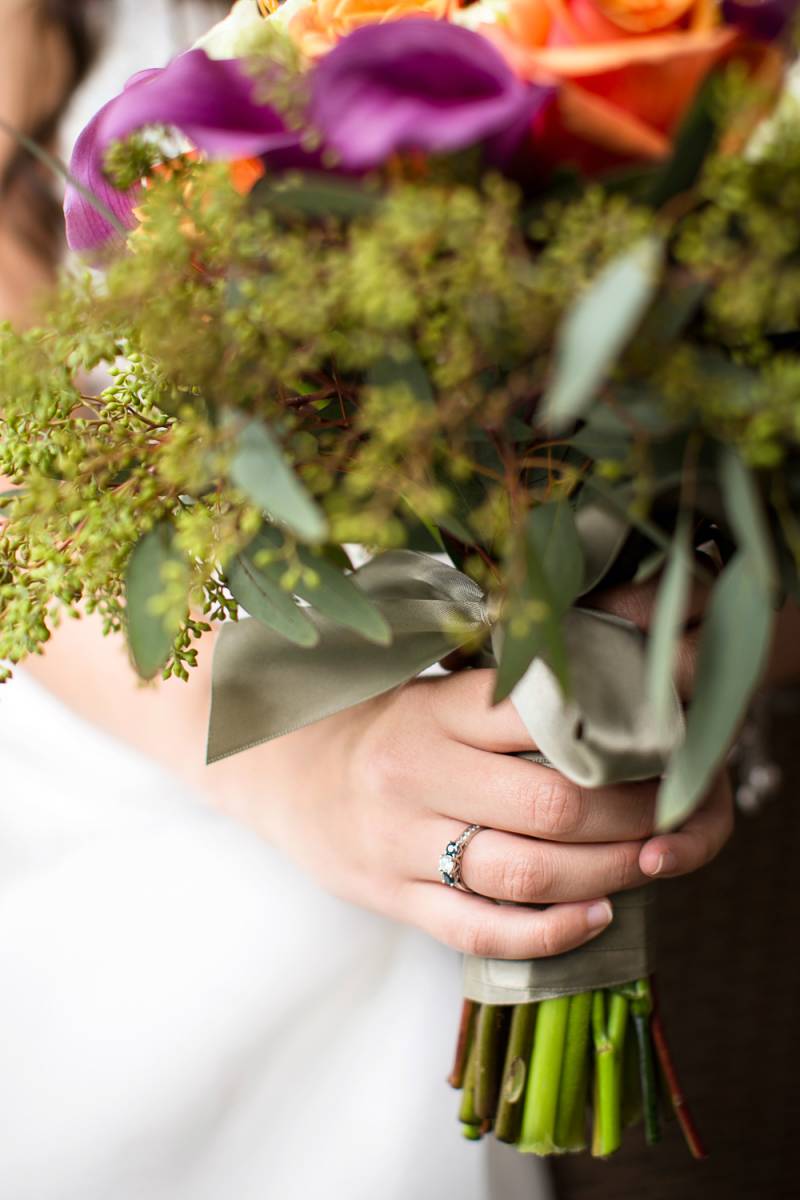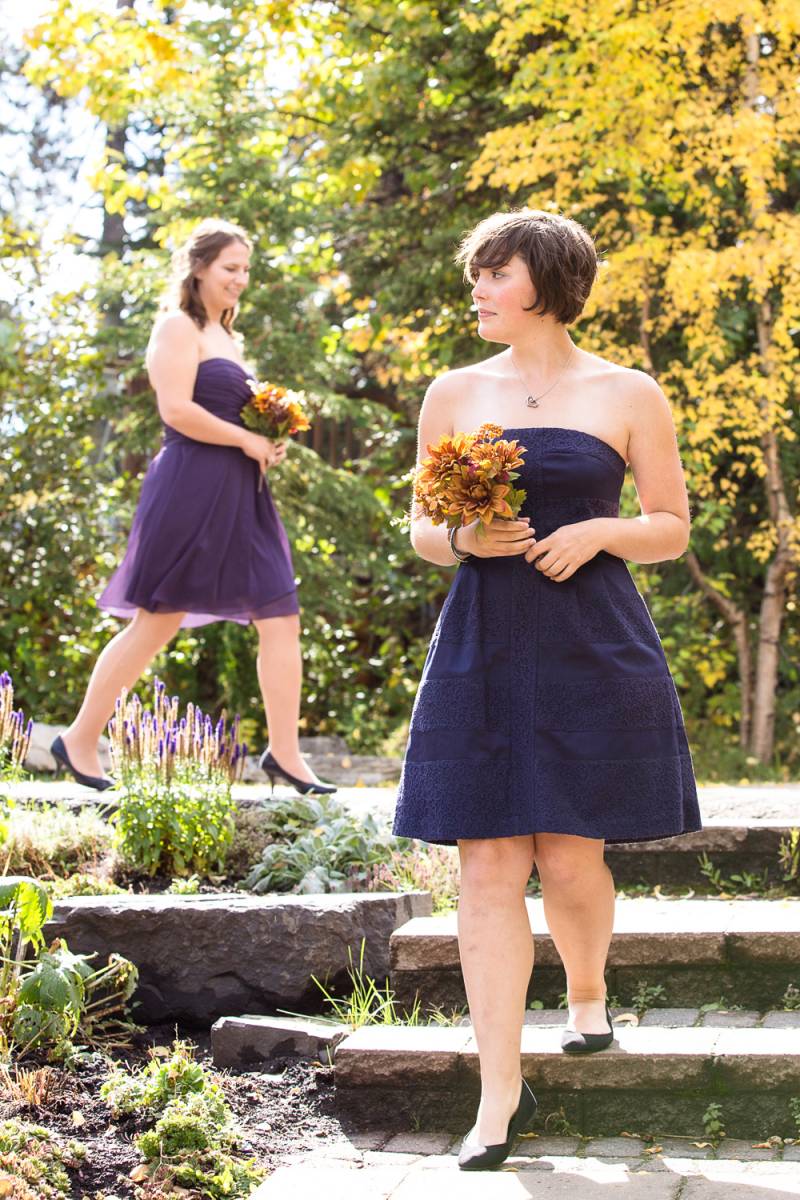 Kaitlyn asked her bridesmaids to find their own dress, something that they loved and felt great in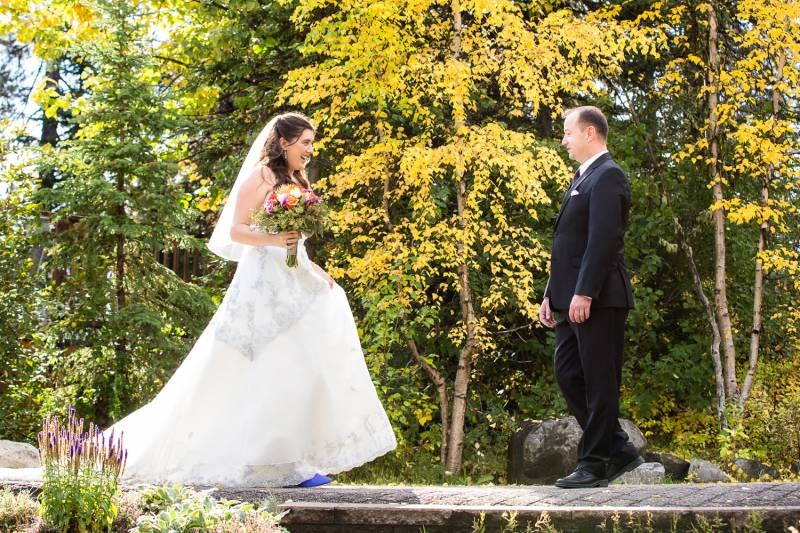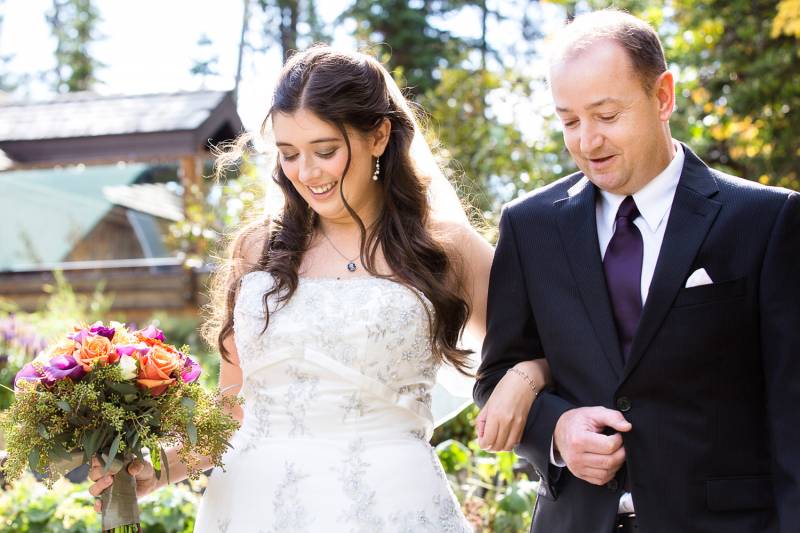 The bride's favourite moment of the beautiful wedding day was the first time she saw Daniel and I love how Banff wedding photographer, Kim Payant captured the moment forever. Kaitlyn remembered the moment and all of the emotions perfect:
"Kim had suggested that Daniel be facing the lake while I came down the aisle, and it was a great build up for the moment. We had spent the morning together for breakfast and had only been apart to get ready, but it was an amazing feeling to see each other when he turned around to see me. We both took that moment to overlook the lake too - our morning had started off with pouring rain, and we weren't sure if an outdoor ceremony would be possible until an hour before. I will never forget the overwhelming feeling of gratitude that our ceremony was outside where we had planned, that the rain had stopped for us, and that our nearest and dearest were there with us."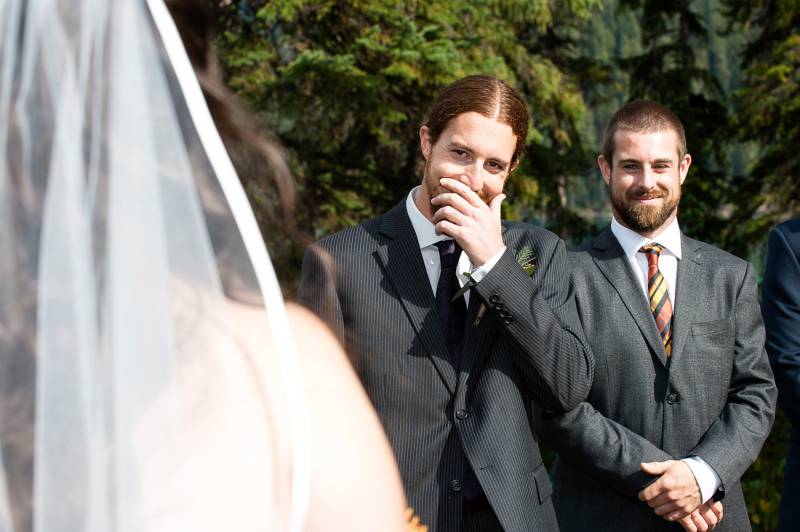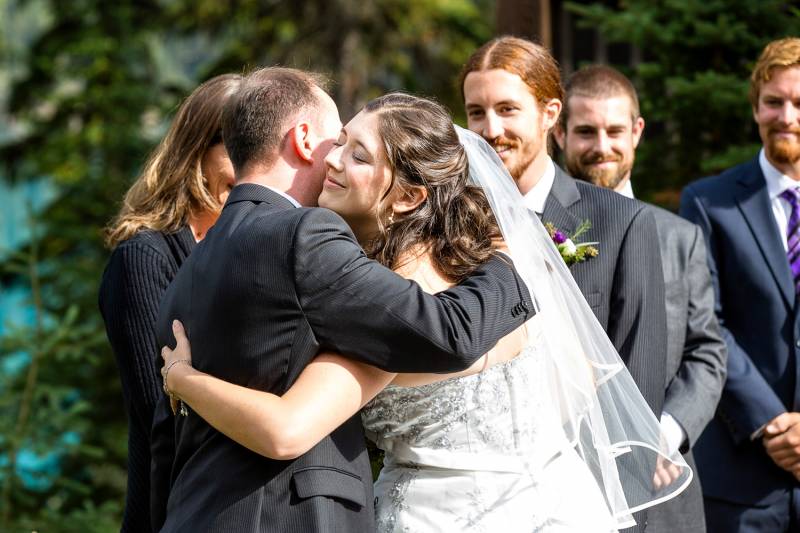 The wedding ceremony was personal and intimate, and most importantly it took place in one of the most beautiful outdoor locations in all of Canada and that was what both Kaitlyn and Daniel wanted more than anything, as she said: "We love the outdoors and wanted to be in a beautiful spot when we became husband and wife. Our vows reflected who we are - best friends that enjoy the outdoors together."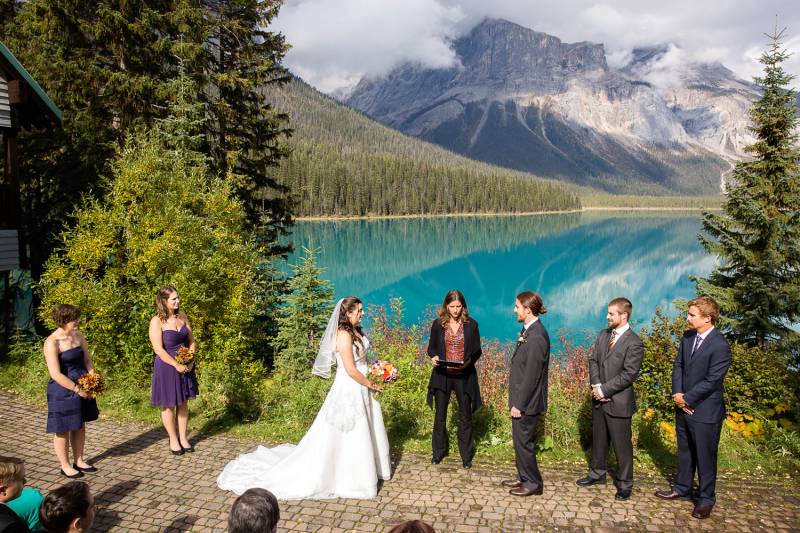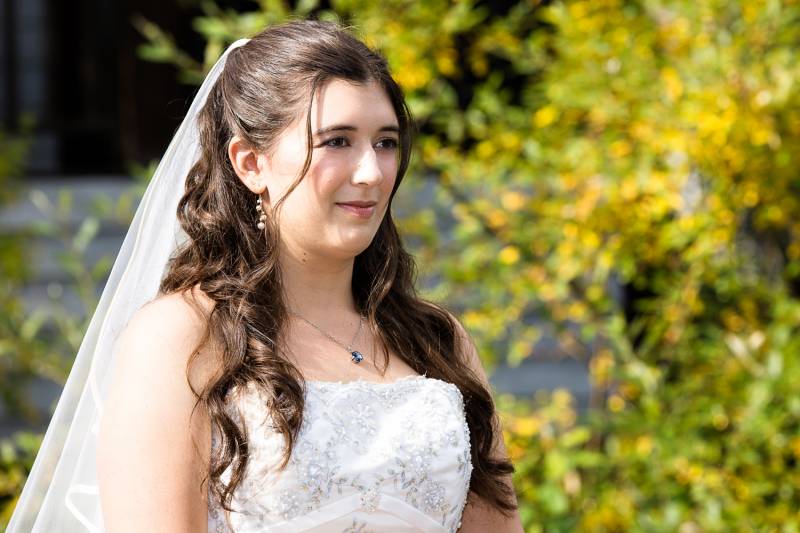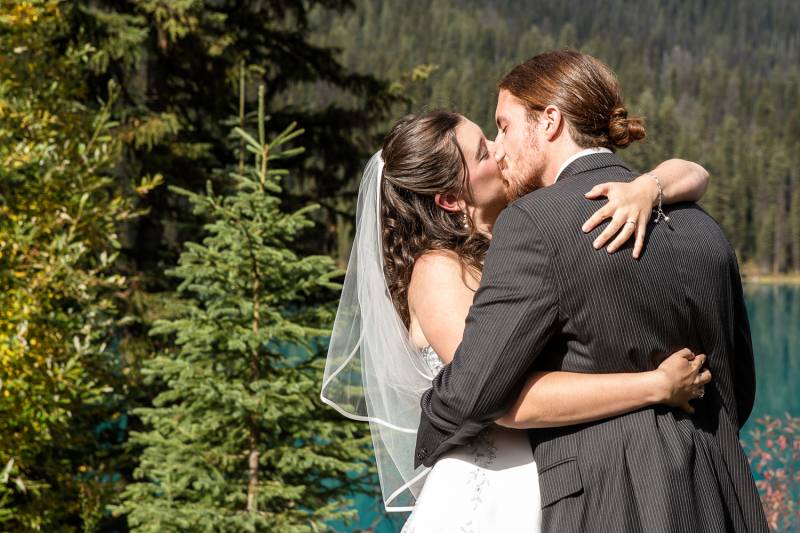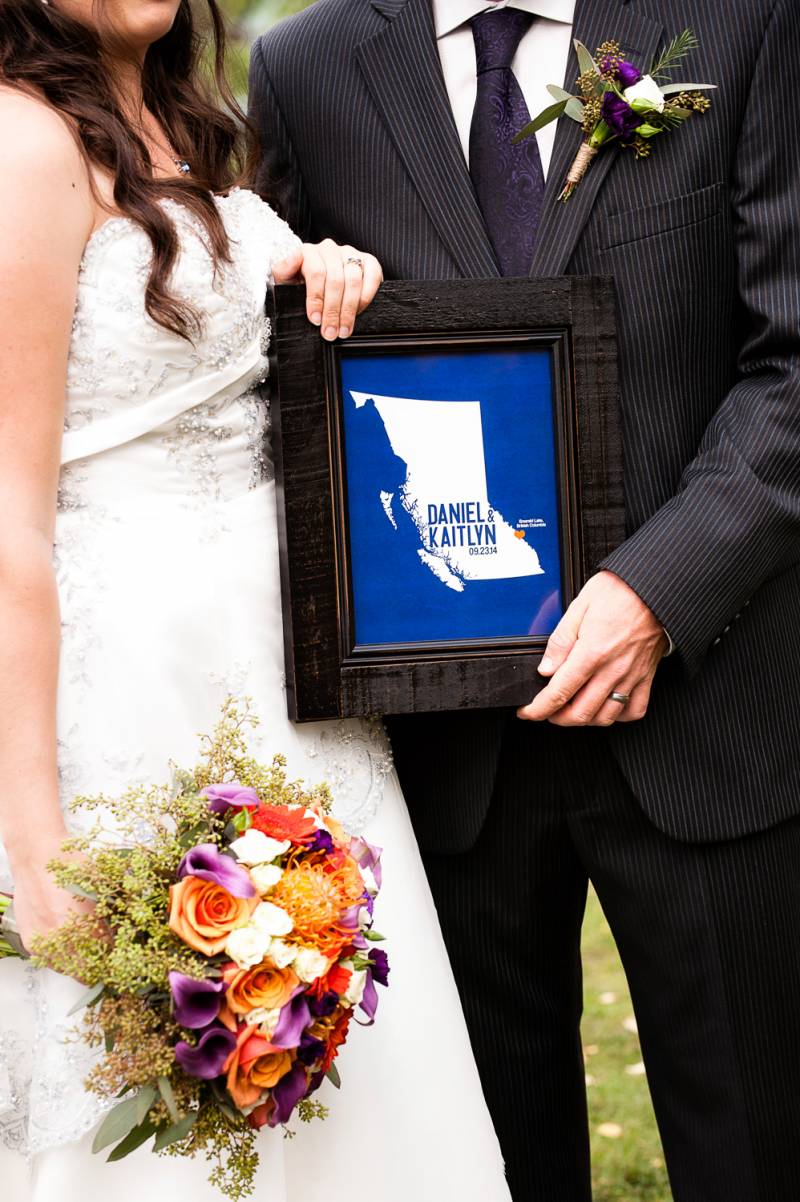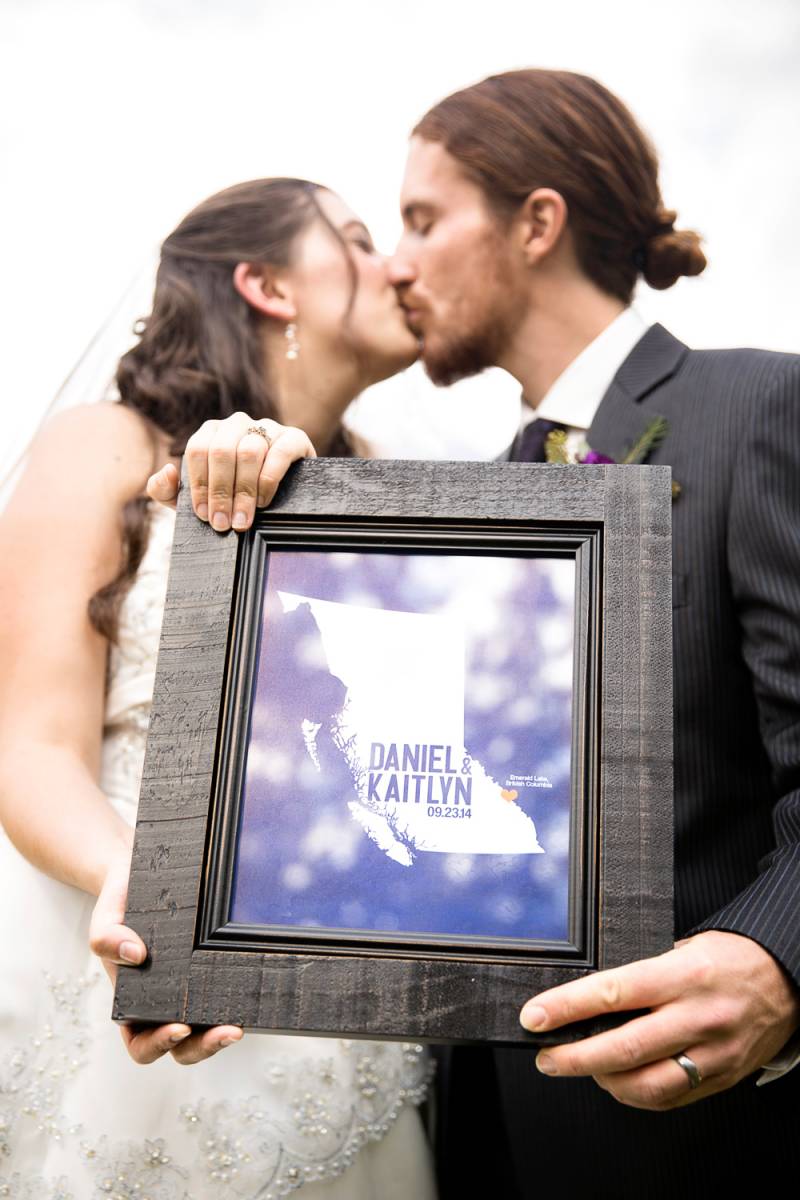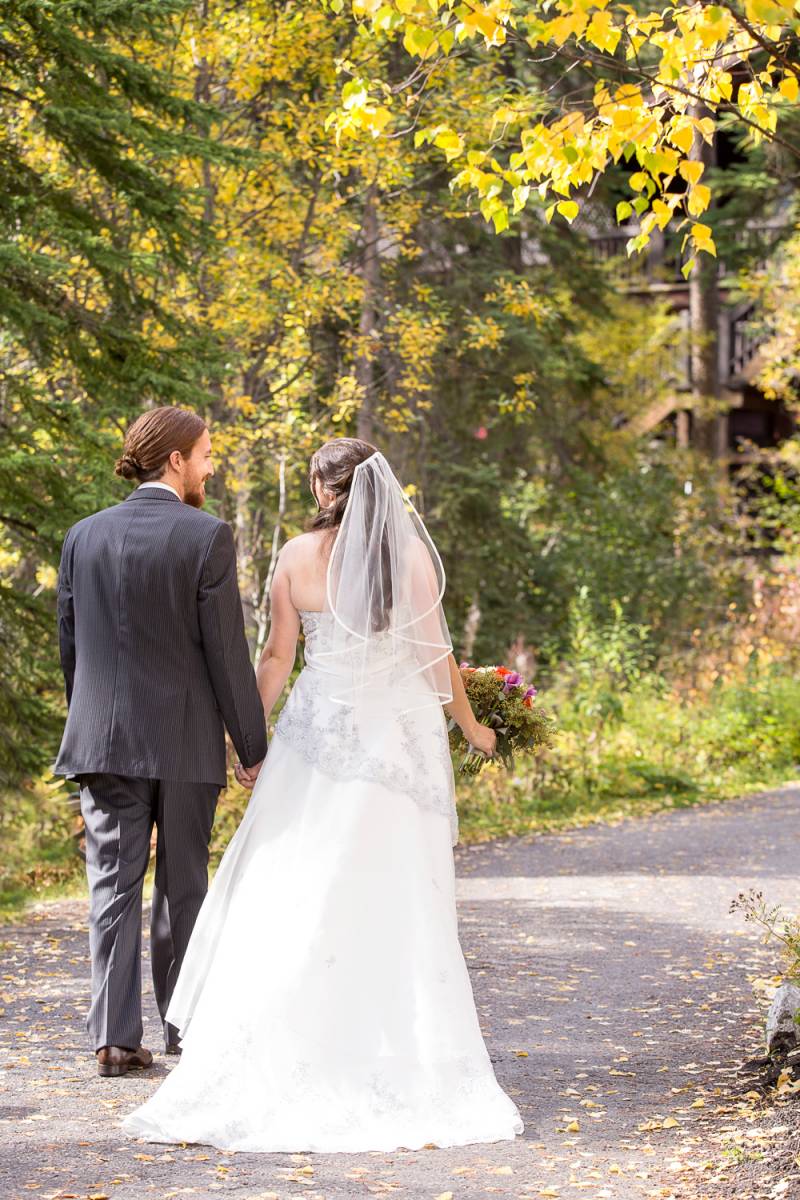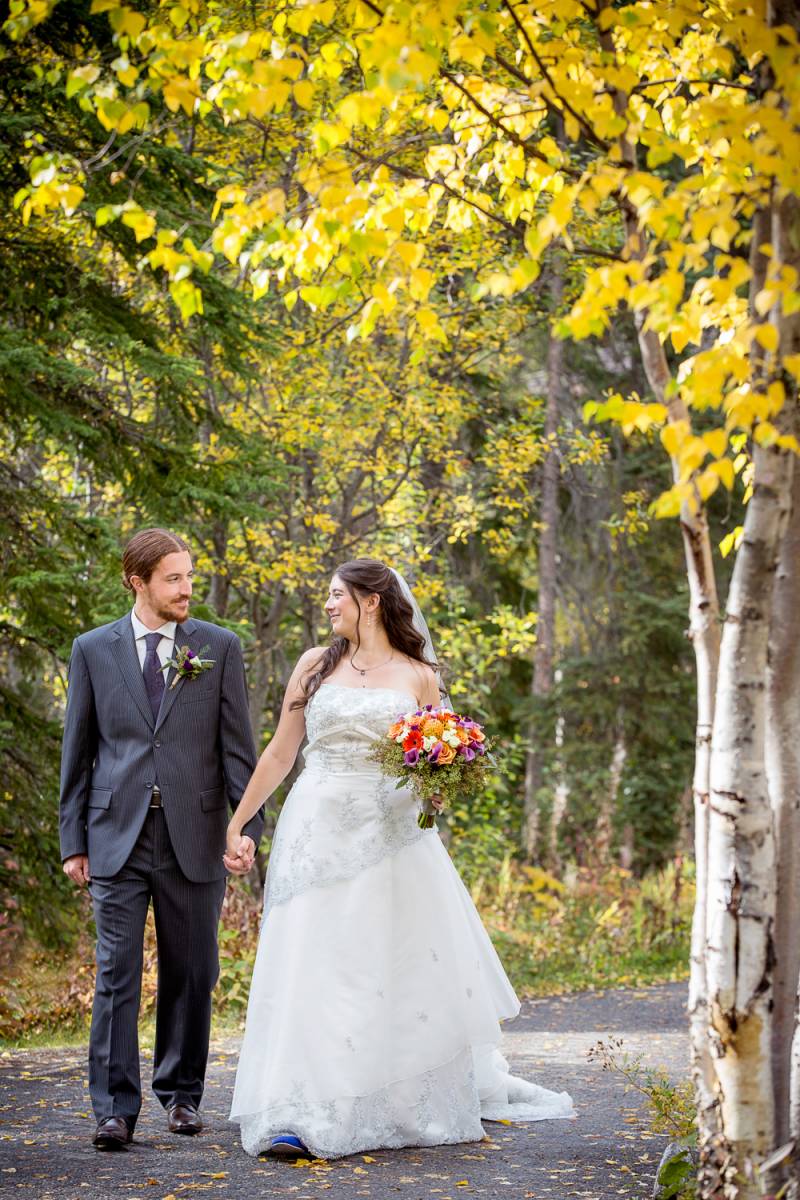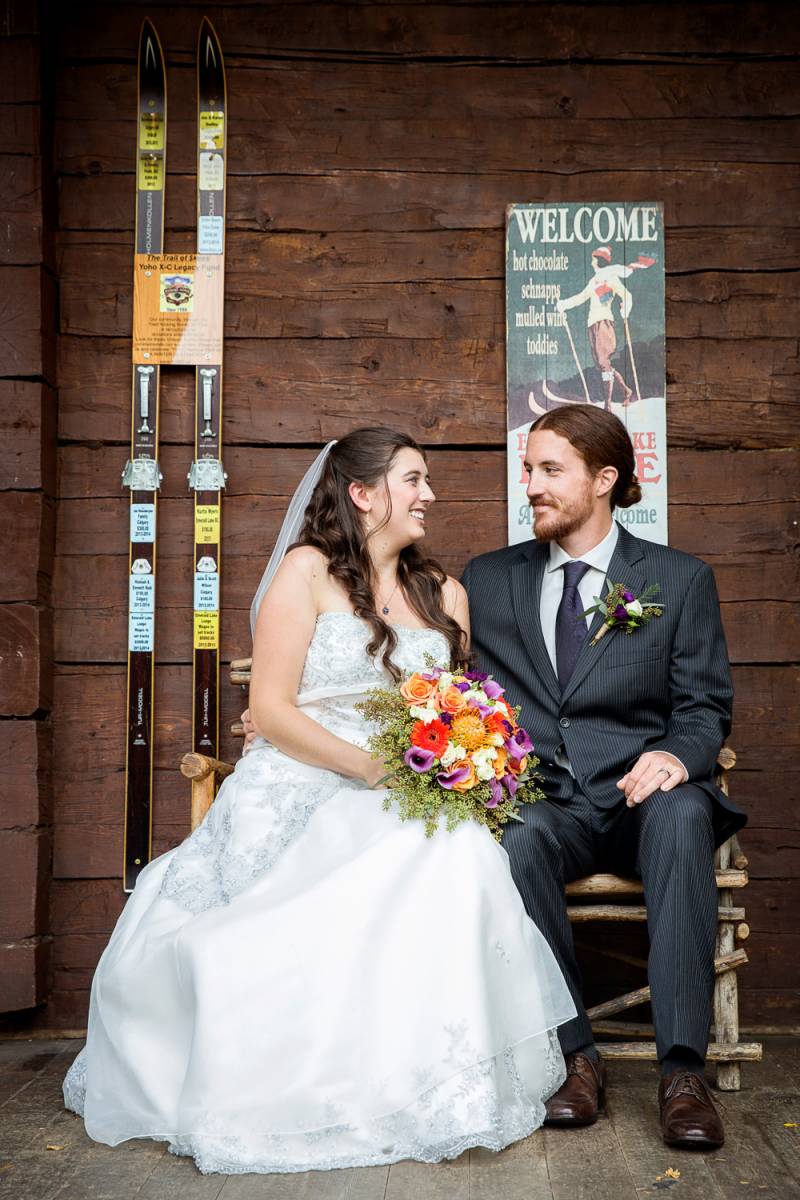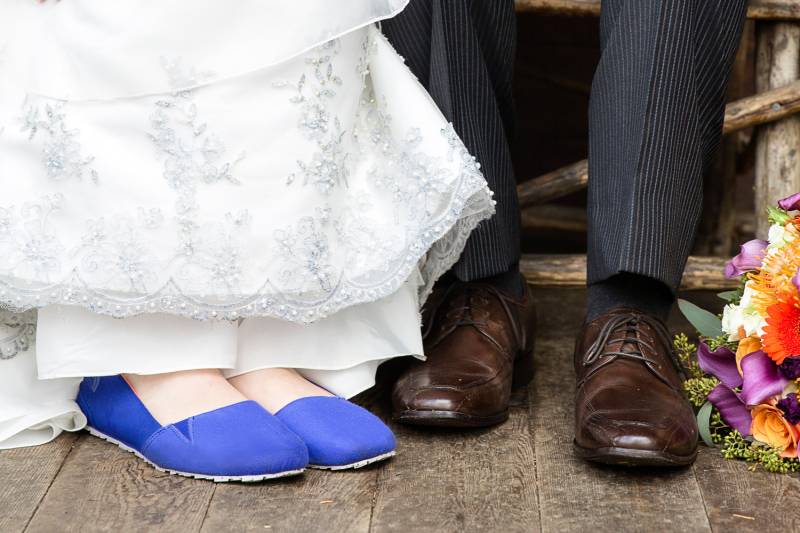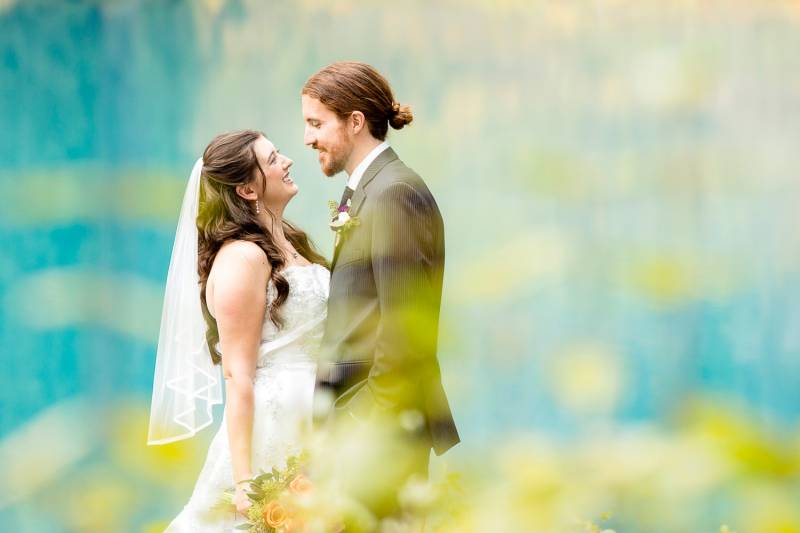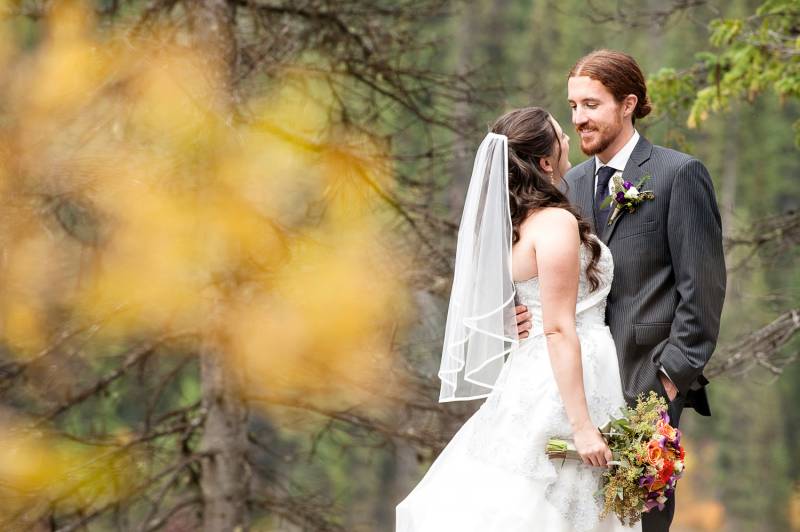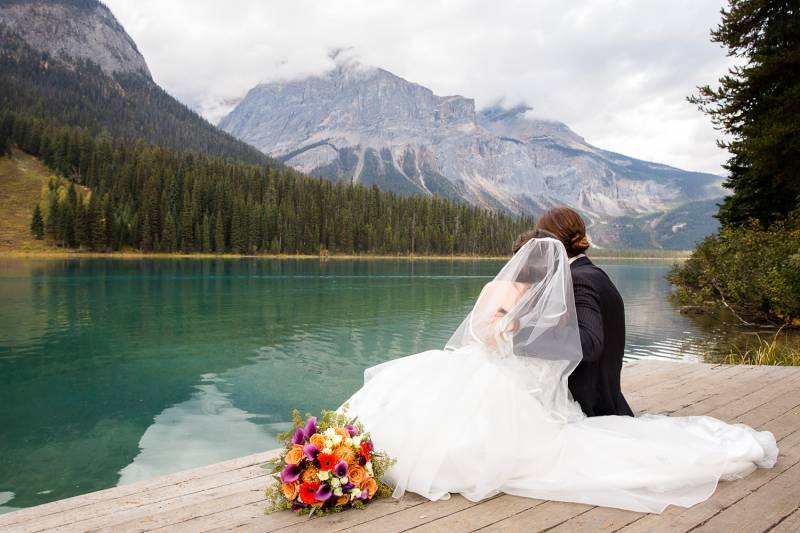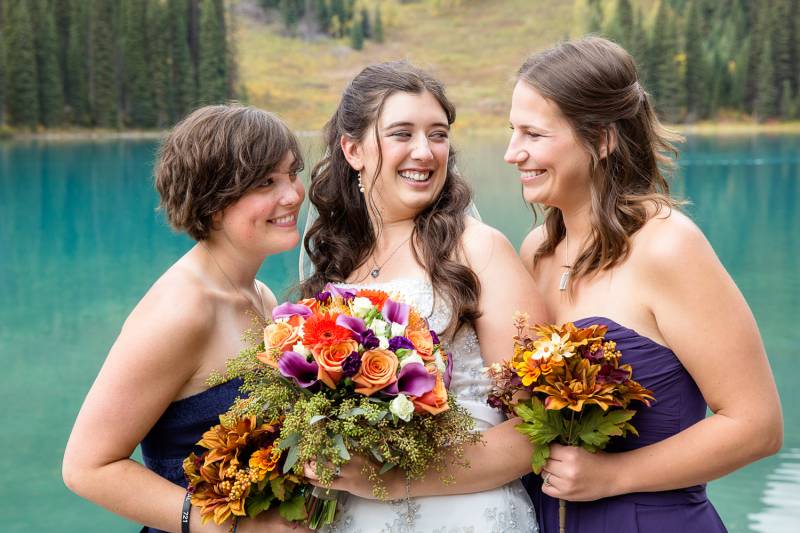 After the ceremony Kaitlyn and Daniel got in the iconic red canoes for some great photos over the emerald waters and fun celebrating their new marraige. They didn't want to leave their family behind and made sure that everyone joined them for the celebration.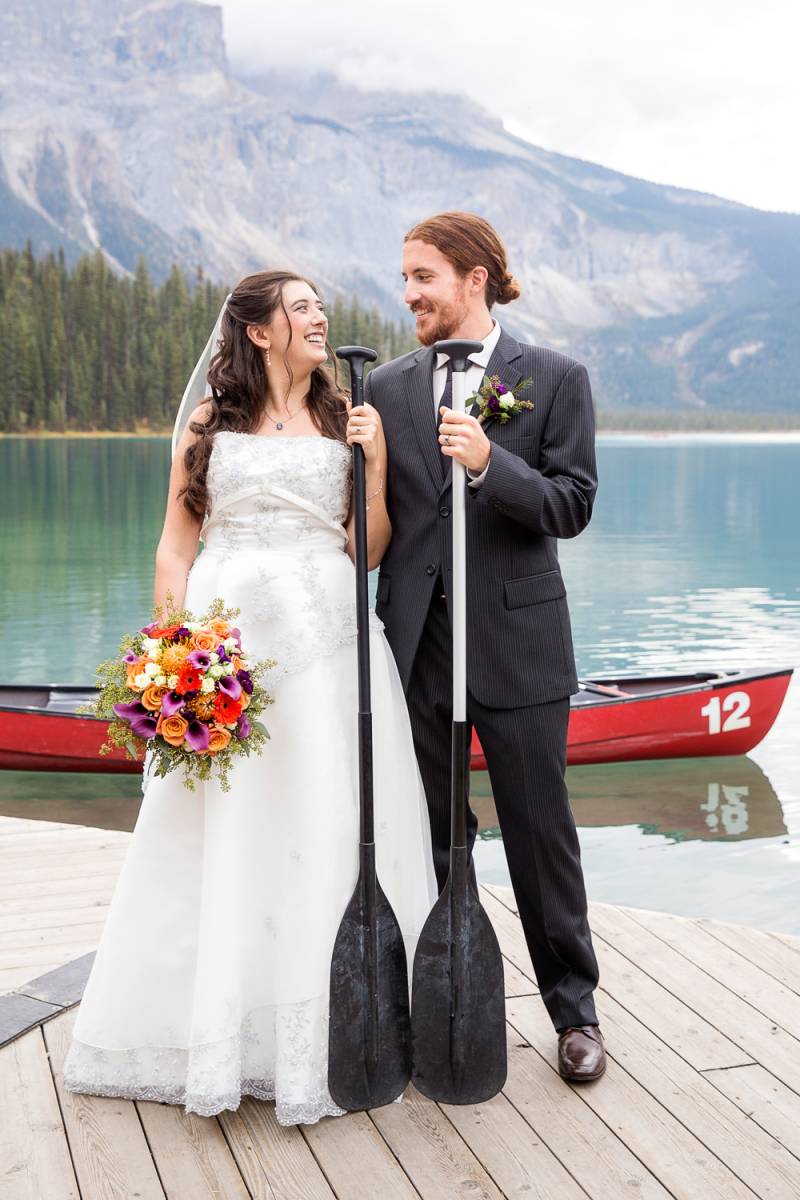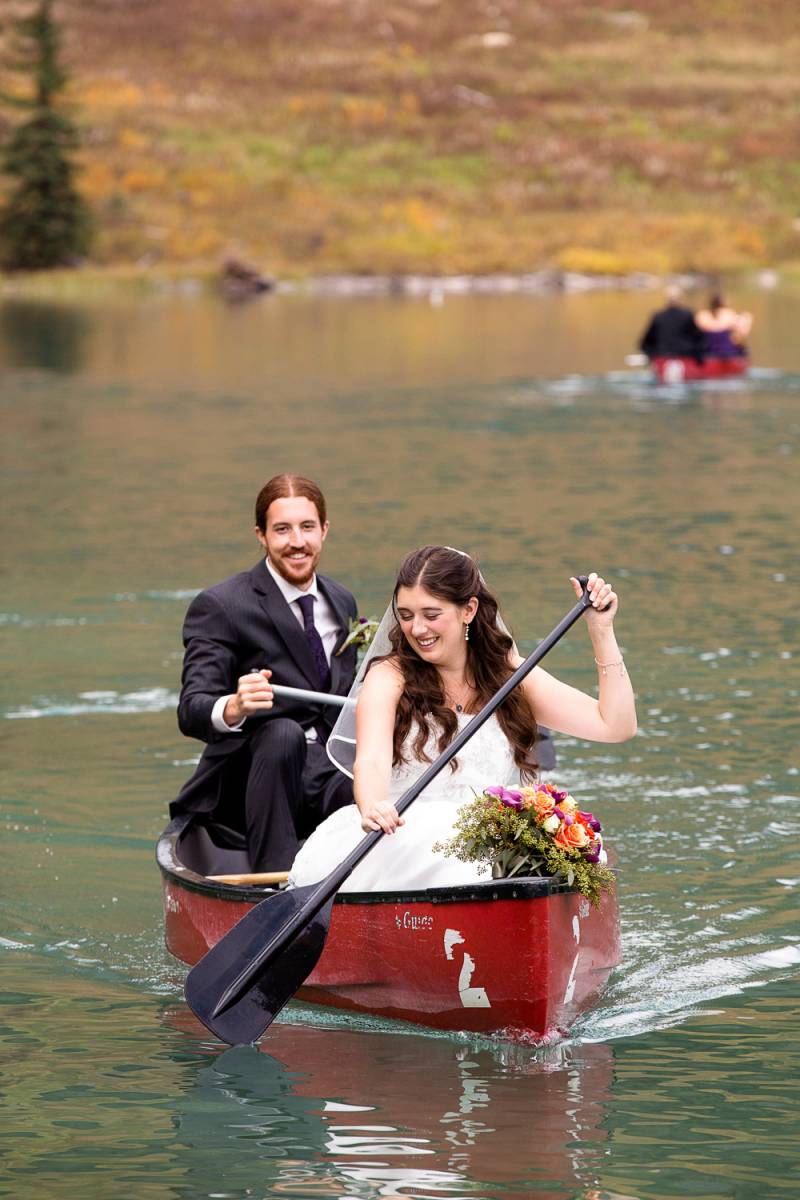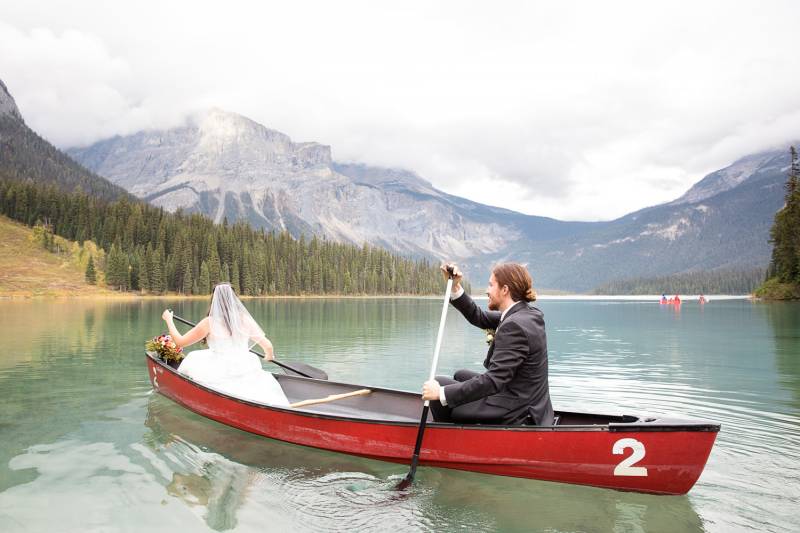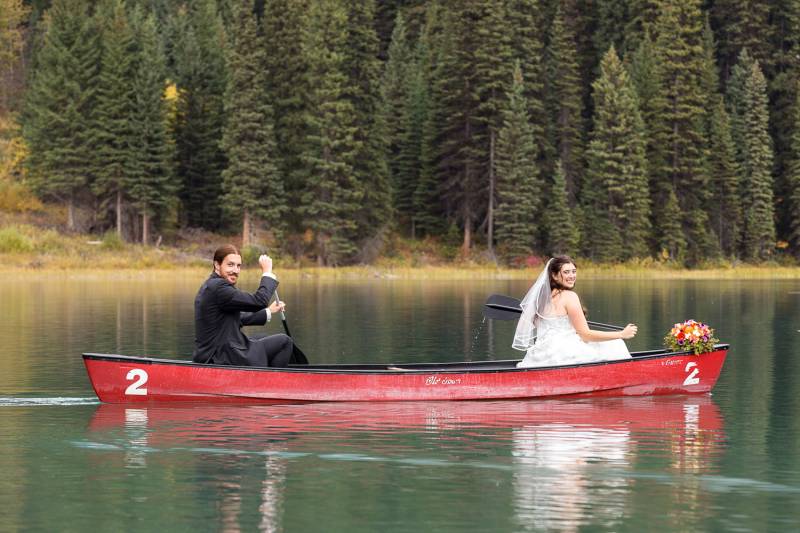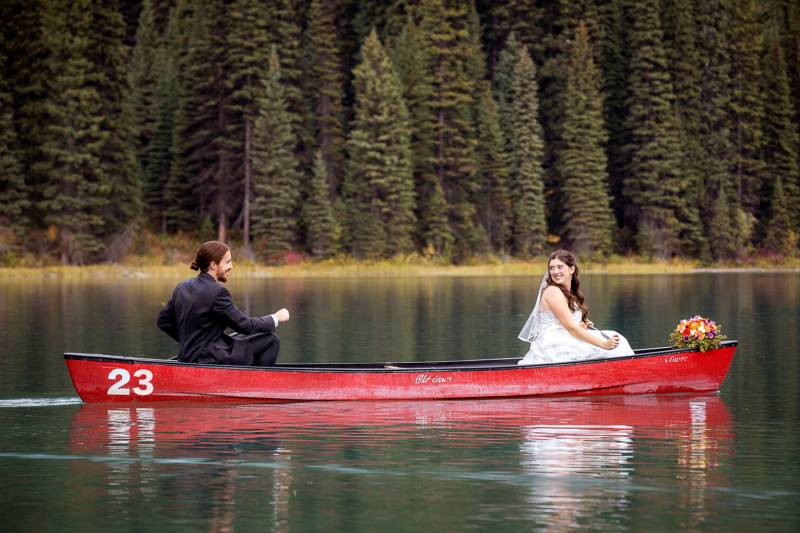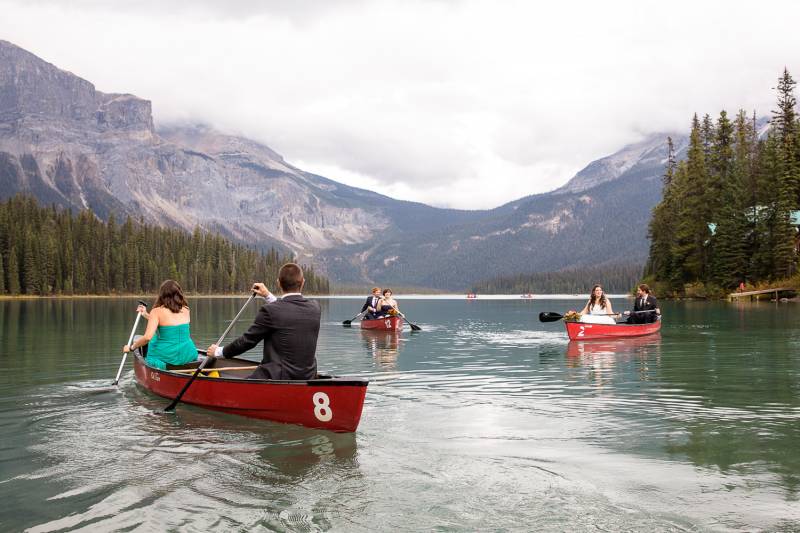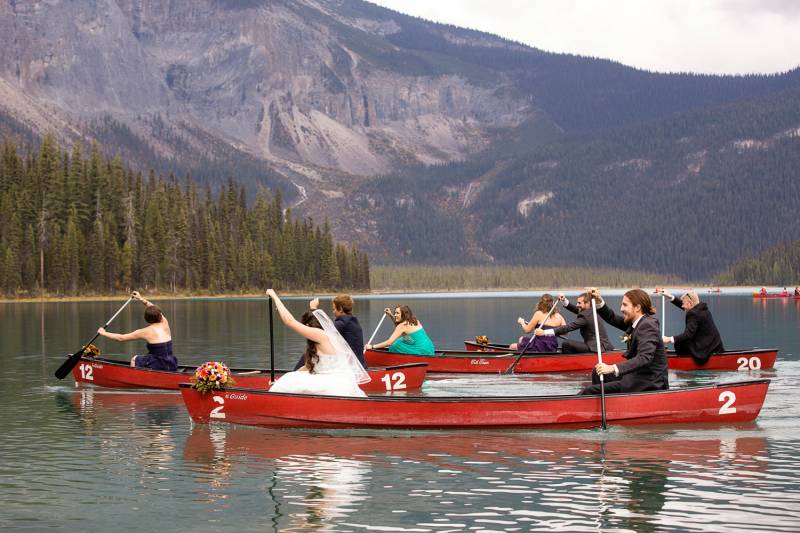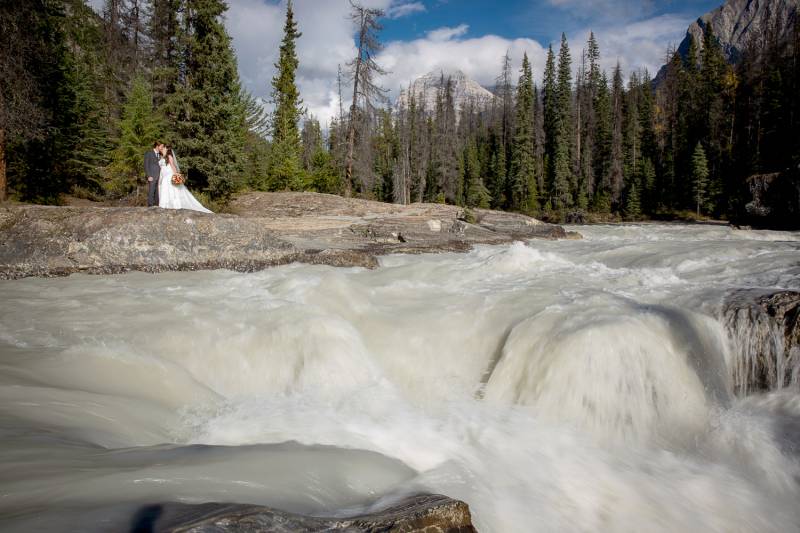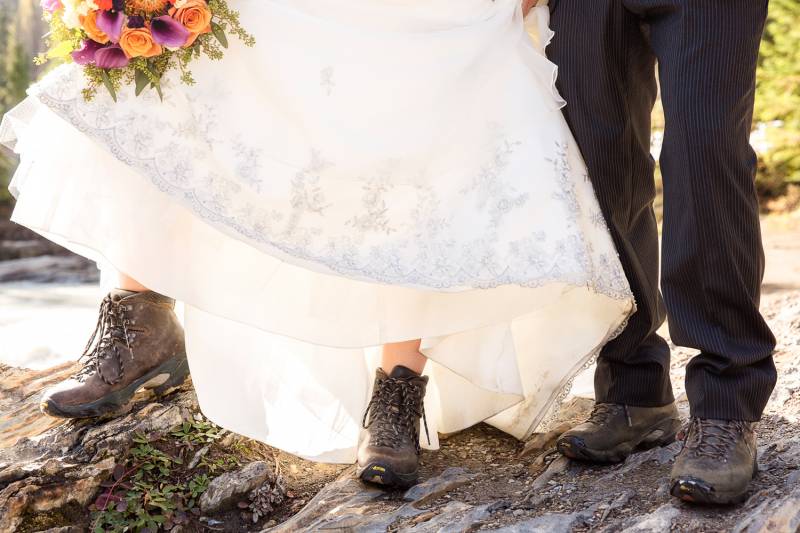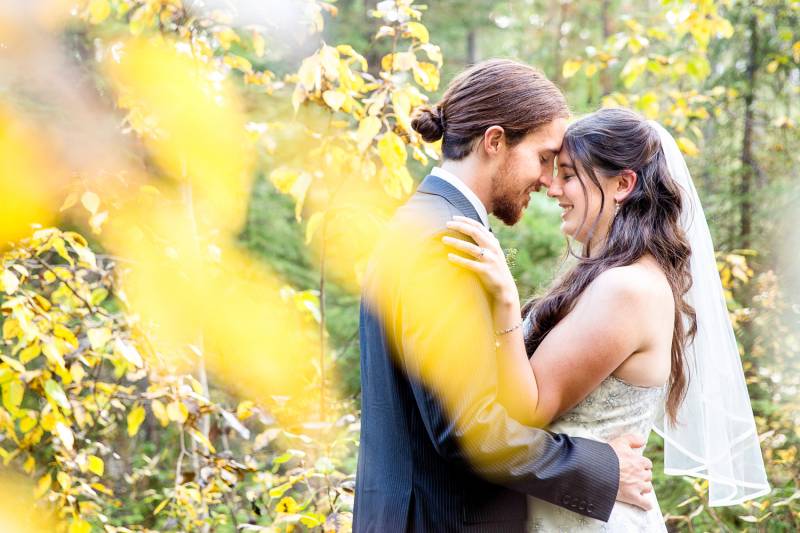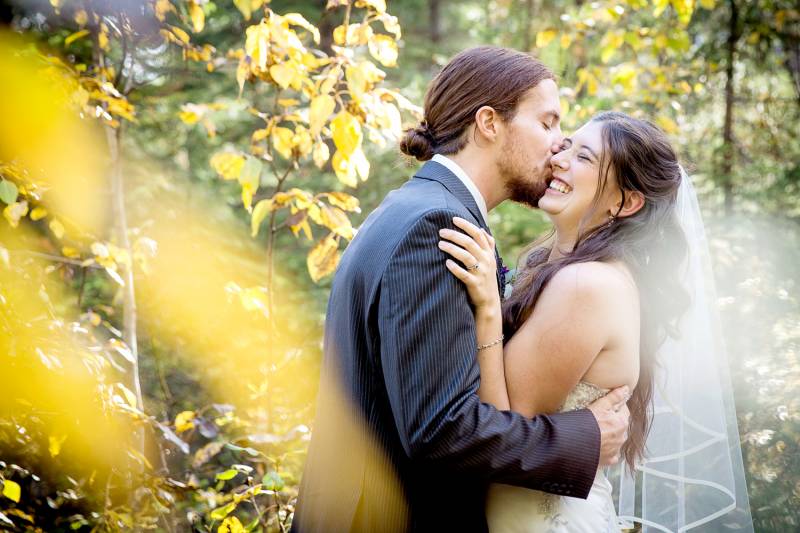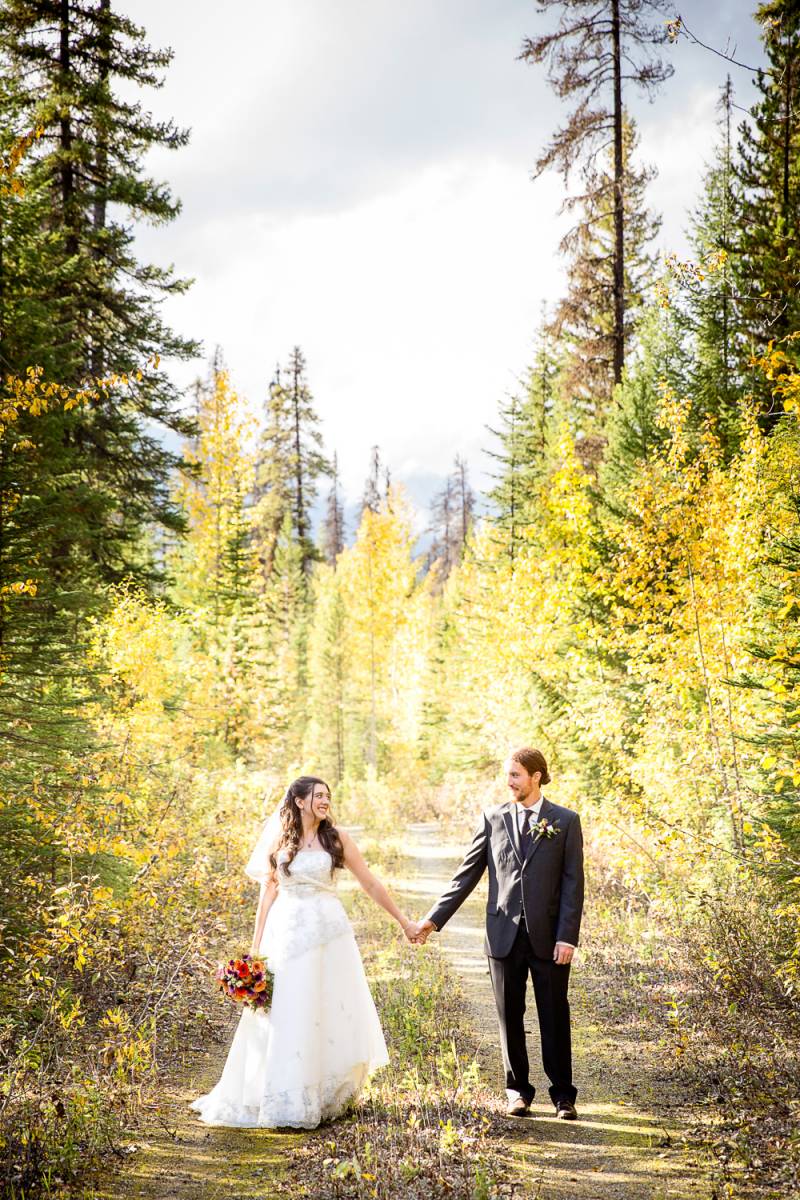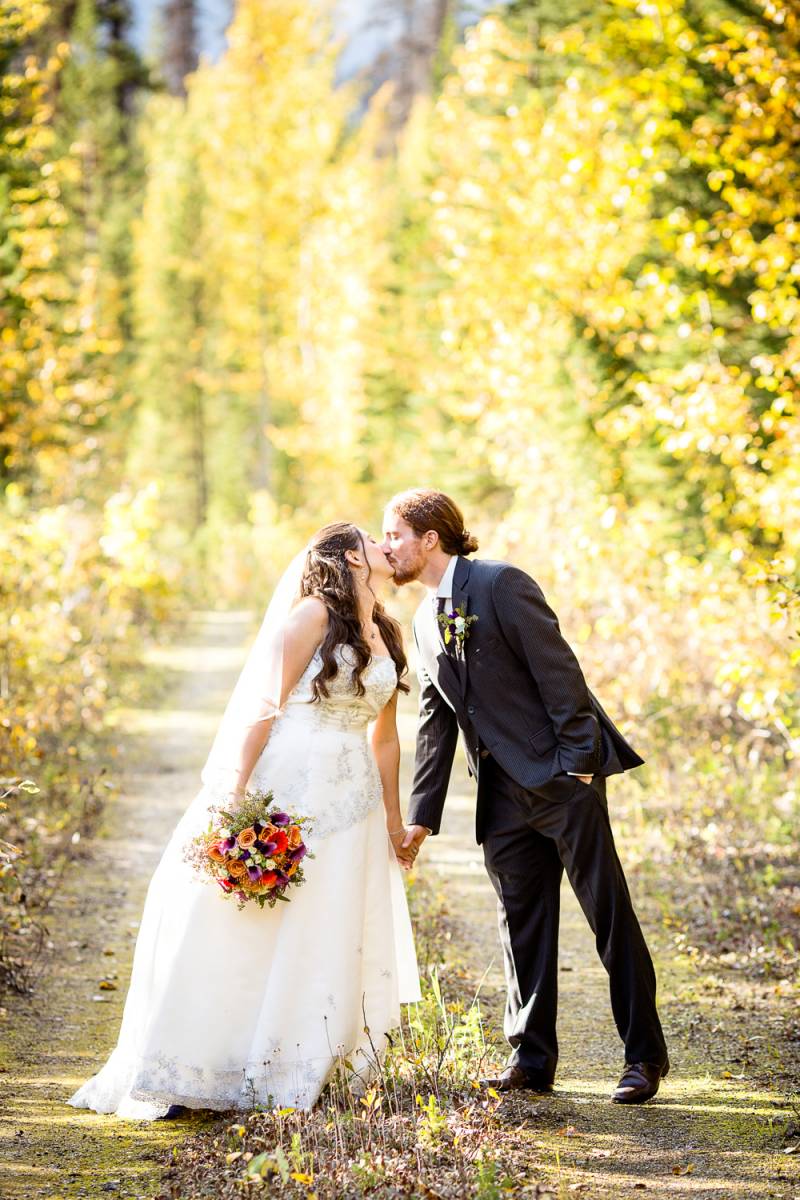 All of these gorgeous fall colours and mountain wedding photos were captured by Banff wedding photographer Kim Payant Photography.