Pearl & Dot opened their doors as a new Calgary bridal boutique well over a year ago and they have quickly become the go-to spot as brides shop for their dream dress. After working with hundreds of brides and countless shopping appointments, Alyssa (owner of Pearl & Dot) is filling us in on her tips for getting the most out of your wedding gown shopping experience. Don't miss these tips and be sure to take them to heart because they come from first-hand experience and a true passion for helping brides find the dress they have been dreaming of.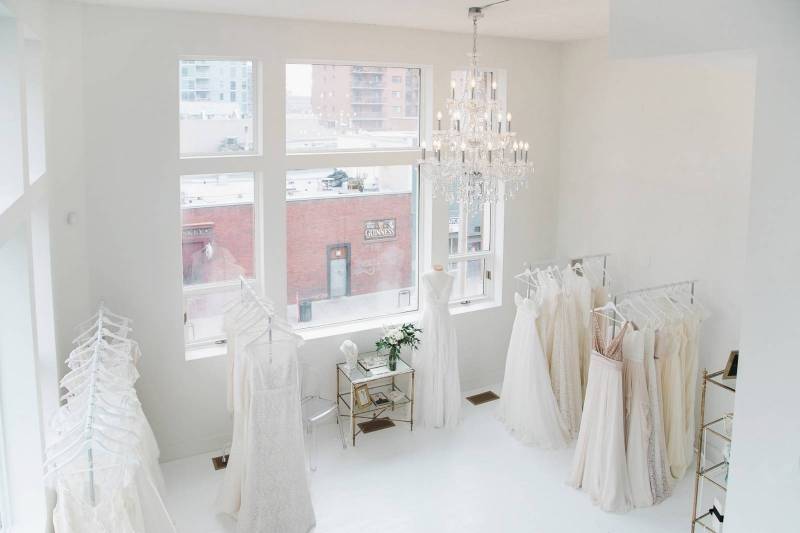 1. What should you bring along?
Nude, strapless, & seamless - your three best friends! Nude undergarments, strapless bras and seamless panties will ensure you see the gowns in all their glory! Shape-wear is also recommended for some of our more fitted gowns. Also, bring a pair of shoes that you think will be a similar height to what you will wear on your wedding day. This will help tie the whole look together!
2. Who should you bring?
Less is more! You have probably heard this again and again but we really do mean it! We find smaller groups of 3-4 are the way to go. We are a smaller boutique so if you do have a larger party joining you, please let us know so we can make sure we can accommodate everyone.
3. How do you know if the dress is 'the one'?
We've seen many brides in our Calgary boutique and not every bride has a typical "say yes to the dress moment". Some people cry, some don't. Some know instantly when they put on the gown, others wake up a week later dreaming about a certain gown. We promise you will know when you have found the one but everyone has their own process to get there. Don't sweat it if you don't break out into tears.
4. Any other tips?
Don't over think it! Coming in with an open mind will help you enjoy the process. Don't get hung up on the Pinterest photos or the blog submissions - do what feels best for you and your partner. The best way to keep stress to a minimum is to continually remind yourself why you are getting married and who you are getting married to!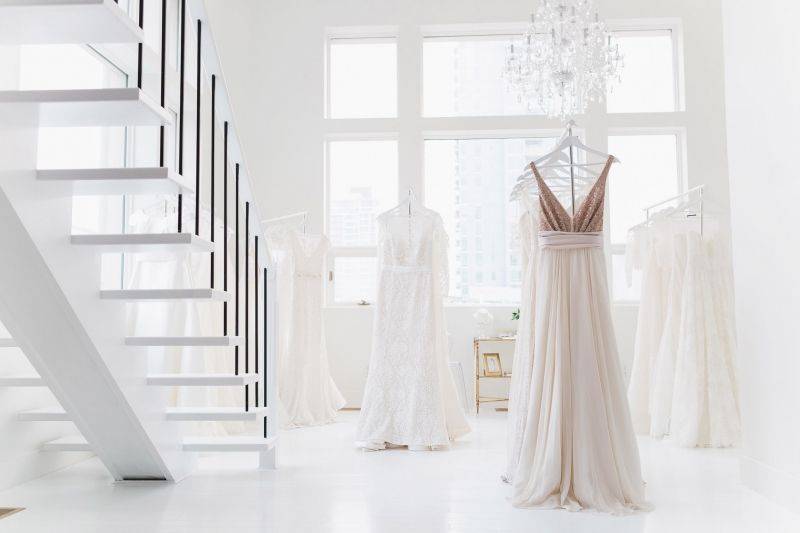 Pearl & Dot is not your average bridal shop, they are a beautiful Calgary bridal boutique focused on providing a curated collection of wedding gowns for the modern bride through their stunning downtown loft. They have brought in incredible designers from across the world and many amazing Canadian collections as well. At Pearl & Dot you'll find wedding gowns from incredible designers like Alexandra Grecco, Anna Campbell, Truvelle, Theia and many more. When you visit Pearl & Dot you can also count on amazing service and one-on-one appointments without any pressure.