Choosing a wedding photographer is one of the most important pieces of your wedding, after all, you are trusting this person with the task of capturing all of the memories of one of the most important days of your life AND they will be by your side the entire day. The good news is there are some amazing wedding photographers in Banff and today we have the privilege of introducing you to Banff Wedding Photographer Kim Payant of Kim Payant Photography and taking a look past her gorgeous photos and into her personality and story. I know it won't take much reading for you to see Kim is full of life, laughter, adventure and an amazing personality that is perfect to have at your side on your wedding day.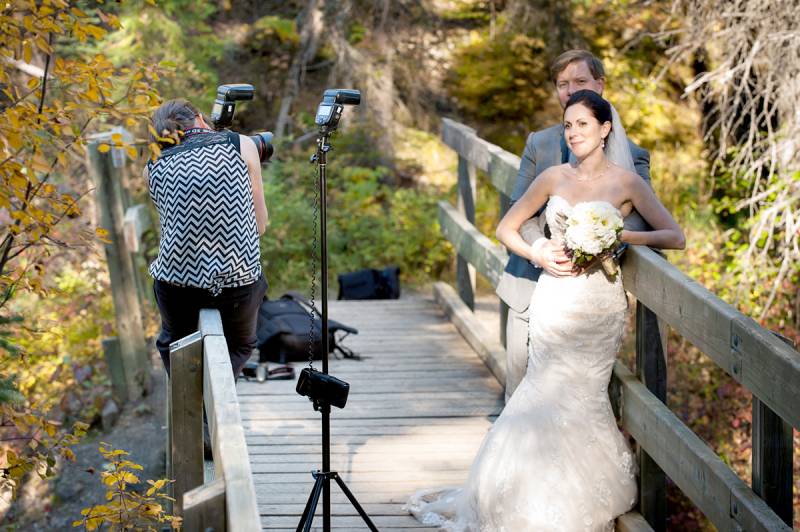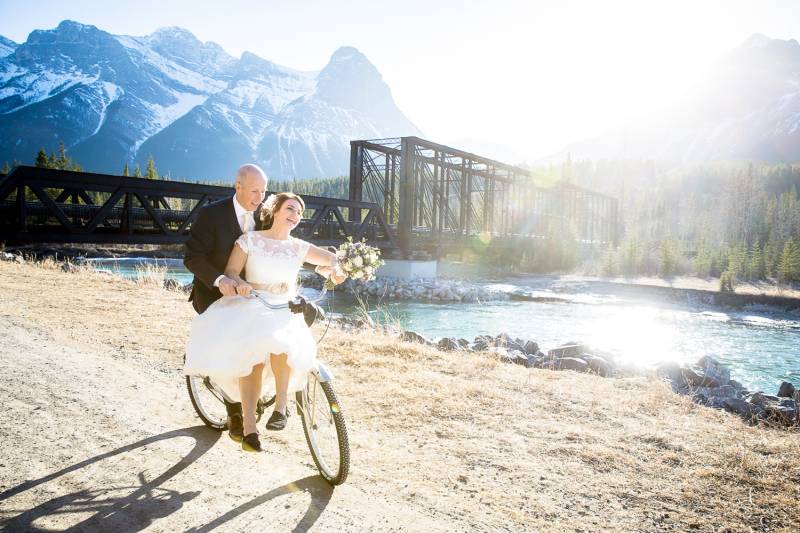 How did you become a wedding photographer? Tell us a bit about you and your history behind the camera.
I grew up in Val-des-Monts, Quebec and loved playing with my Dad's camera. It was this simple playing with his camera that led me to understand the basics of film photography and eventually to a degree in fine arts where I truly fell in love with photography. I even followed up that degree with a second college degree specifically in photography. I was obsessed with photography and did whatever I could to learn more about it, which included working at a camera store and helping at a commercial photographer studio. Watching and helping that commercial photographer eventually led to me becoming his go-to-assistant and five years of incredible experience in all different types of photography.
As I worked in commercial photography, I also began helping other photographers with weddings and doing some of my own but my heart was fixed on moving into fashion photography. At the time my ultimate goal was to shoot at New York fashion week and I began to work towards that goal with everything that was in me. After four years of shooting at Montreal Fashion Week and anything related to fashion that I could get my hands on, I found myself shooting the runways at New York Fashion week. I was thrilled to have reached my goal but it was a bit of an eye opener too. Shooting the runways in New York was all I had dreamed of, but it was also one of the most stressful things I have ever done!
After shooting the runways in New York, I travelled to Banff with my boyfriend (I can now say that he is my amazing husband) who spent his summers working there. After visiting Banff with him a few times I realized the tremendous potential for a photography career in Banff. I made the decision to move to Banff and focus on wedding photography and I haven't looked back since. I love being a Banff wedding photographer as I get to work amidst the beautiful Rocky mountains and create family heirlooms for my clients. I also find myself incorporating many of the fashion techniques I learned into my wedding photography and look forward to every single day I get photograph someone's wedding!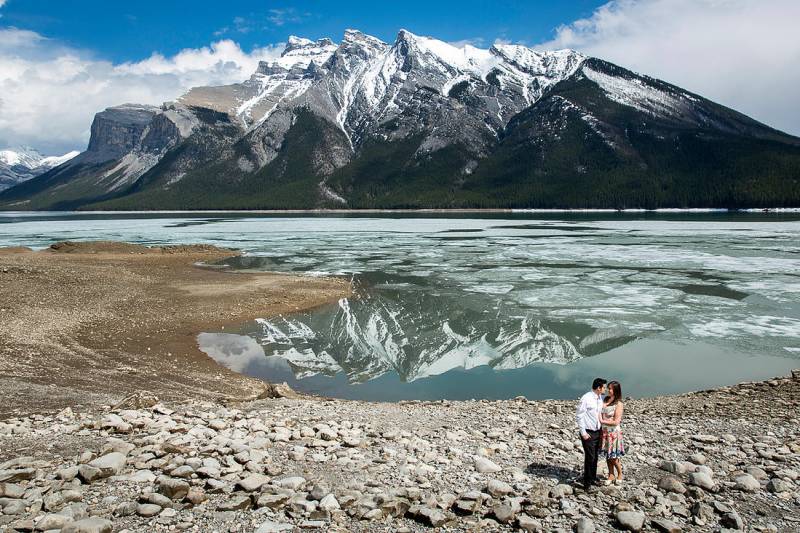 What is your favourite part of a wedding day?
On the emotional side, my favourite part of a wedding day has to be the first look because I feel that it's such an emotional moment between the bride and groom. Every time I photograph a first look at a wedding, I find myself reliving my own first look with my husband! It was definitely the favourite part of my wedding and this is why I love to witness this moment between couples over and over!
On the photography aspect, my favourite part is my alone time with the bride and groom creating their portraits. I love driving around, having fun and taking photos among the beautiful scenery!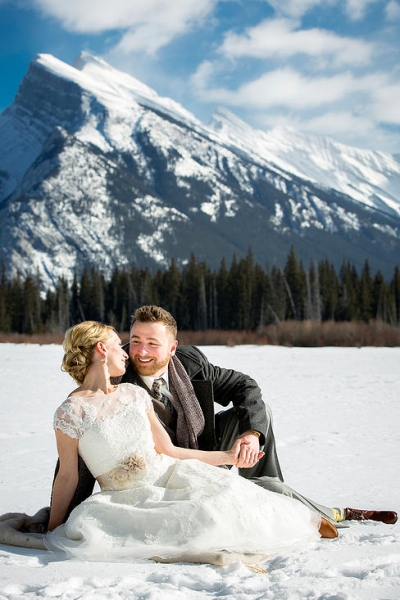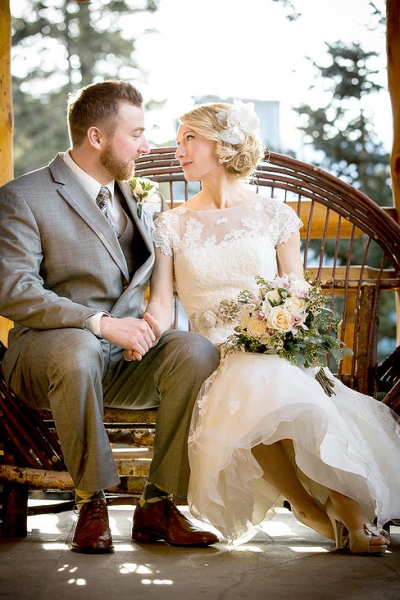 What is your best tip for brides and grooms about wedding photos?
The best tip I can probably give is to have faith in your photographer and let them do the work and to spend time doing an engagement session with their photographer.
Your photographer will know how to help you pose and make sure that you are relaxed in front of the camera. I know a lot of brides look at wedding magazines, which is a great source of inspiration, but it can also create a lot of unnecessary pressure to try and copy a certain photo or pose a certain way.

I believe every bride and groom should enjoy their day to the fullest and just relax in front of the camera. When you are relaxed you always look your best! If the couple is really stressed about photos than I definitely recommend an engagement session with their photographer before the wedding. An engagement session is a great way to learn how to pose and help you feel more comfortable about photos on your wedding day. It's also a great way to get to know your photographer and how you work together before the wedding itself.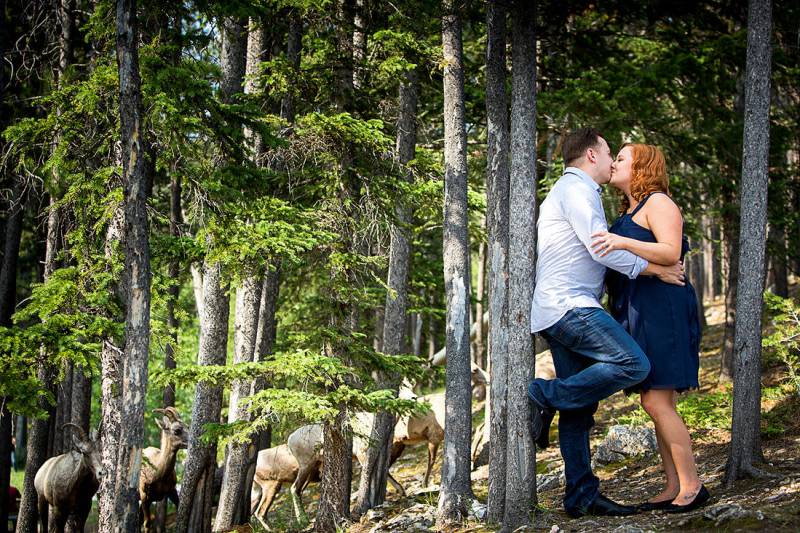 What is your favourite thing about weddings in the Rocky mountains?
It might sound weird but I love that the Rocky Mountains offer a huge variety in weather! In one day it can be sunny, rainy, windy, snowy and I love it!! The changing weather creates dramatic photos and I'm always up for the weather challenge! Of course I always prepare my bride mentally so she is ready for absolutely anything. If they are willing to still go outside in the "not so perfect" weather, I know we will get some great shots!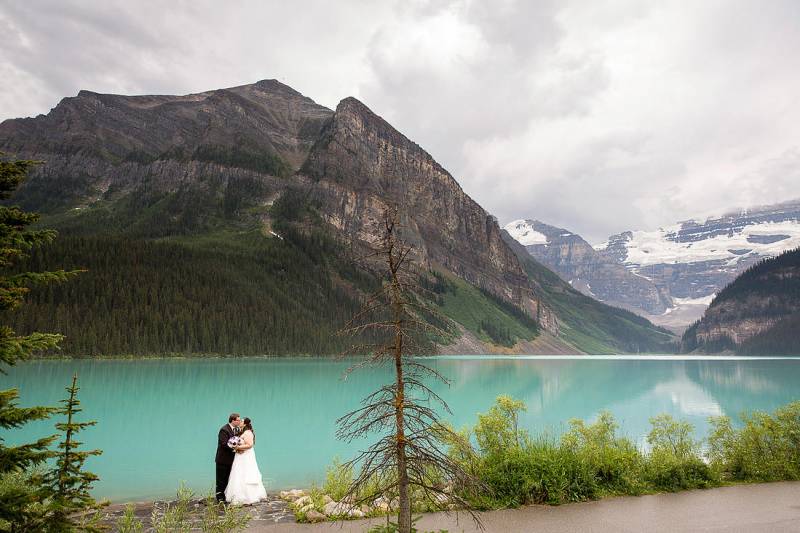 Where are your favourite places to photograph in the mountains?
Honestly, it's beautiful everywhere in Banff, Canmore and all throughout the Rocky mountains so it's almost impossible to pick a favourite location. I can say that fall is my absolute favourite season to photograph because of the colour of the leaves and the warm golden light of the afternoon sun. However, I also love it when the daisies are out towards the end of summer and I love a big fluffy snow day when the trees are covered in a soft blanket of snow.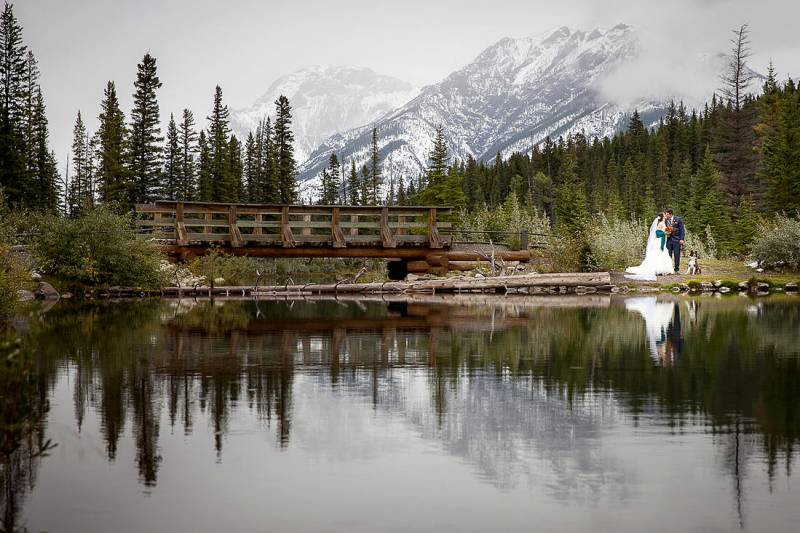 If you could travel anywhere in the world right now where would you go?
I do travel quite a lot and I have been lucky enough to visit a number of countries. I don't really have a favourite destination in mind because I would really love to visit every country possible! I love different cultures, I love, love, love food and I love learning new words in different languages, so every country that can give me these experiences will make me happy:) I just returned from Costa Rica and in June I am going to Vietnam.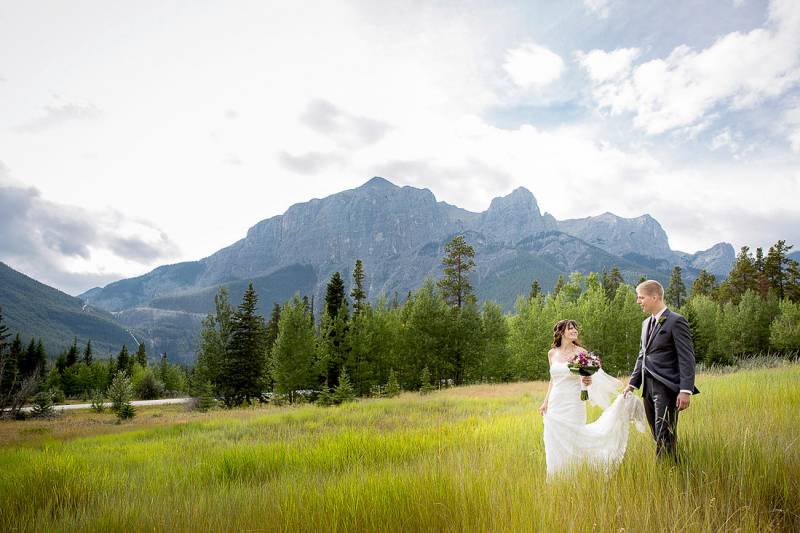 What are some of your favourite things to do (or places to eat) in Banff?
During summer I love going to the Farmer's market and eating fresh cherries from BC. I also like walking on Banff Avenue when it's busy as it reminds me of a small Montreal and a mini times square. I also love being on Banff Avenue because it makes me feel like I'm travelling with all of the different languages surrounding me. I know Banff is filled with tourists year round and it's not for everybody but I actually enjoy it very much!!! As for restaurants, well I love food so I like a lot of them, I love the Huevos Rancheros at Coyotes, I love the Arni Psito at Balkan and I love to go to Eden once a year to have my mind blown by their awesome chef (if you are a foodie, you need to treat yourself to Eden, you will not regret it!!)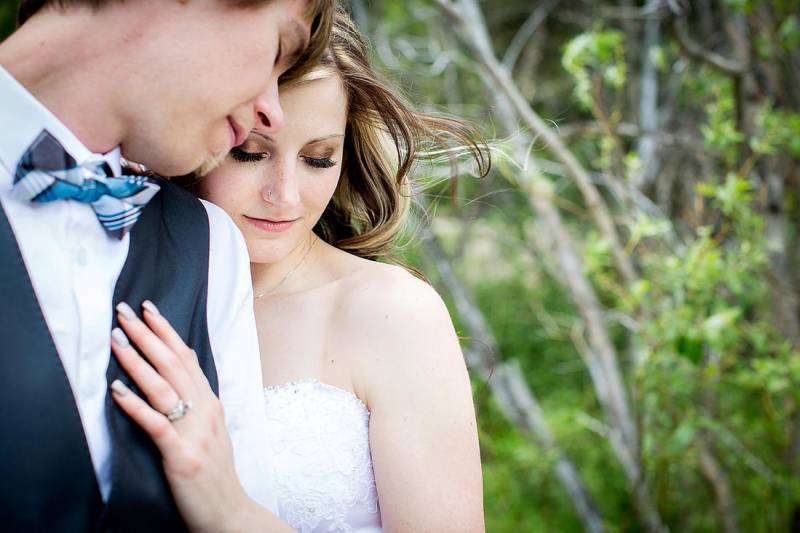 What is one thing you cannot live without? And any other funny or quirky things we should know about you?
I cannot live without chocolate or food in general, I might be tiny but I love food and I can eat quite a lot! I always have a piece of chocolate hidden somewhere in my office. If I could have a superpower it would be to never have the feeling of being full so I could eat everything that I want whenever I want (hahaha). I have so many good memories related to food, I think that is why I love it so much.
Other than that, well I cannot live without travelling. I really like discovering new things, new places, new food, so I could definitely not live without doing at least one trip per year.... it doesn't need to be far or exotic but as long as it is a change of scenery and somewhere I haven't been.
Finally, well I cannot live without my husband (I know it's cheesy but it's true). He is my best friend and supports me in everything that I do! He loves food and travelling just like me (he's a great cook, so I am really lucky), and when we travel he loves reading lonely planet and finding all the hidden gems so he is the greatest travel partner.