They met at a bar. I know you were probably expecting something more elaborate, but it's how these two love birds met and found a love that was deep and beautiful. Claire was out for a girls gathering at the Local 510 in Calgary and Chris happened to be their with a group of friends too. Claire tagged along with a friend to say thank-you to someone when she saw Chris and instantly thought he had the most beautiful eyes that were intelligent and interesting. At the same time, Chris noticed Claire and felt an instant connection as well. Instead of the usual verbal exchange when the two of them finally met, Claire's first words to Chris stumbled out as "so what are you, 5'8''?" Claire had a history of shorter boyfriends and couldn't help but blurt it out with curiosity. Chris had been sitting down with his long legs underneath and stood up to his full 6'2" frame, and the rest is history.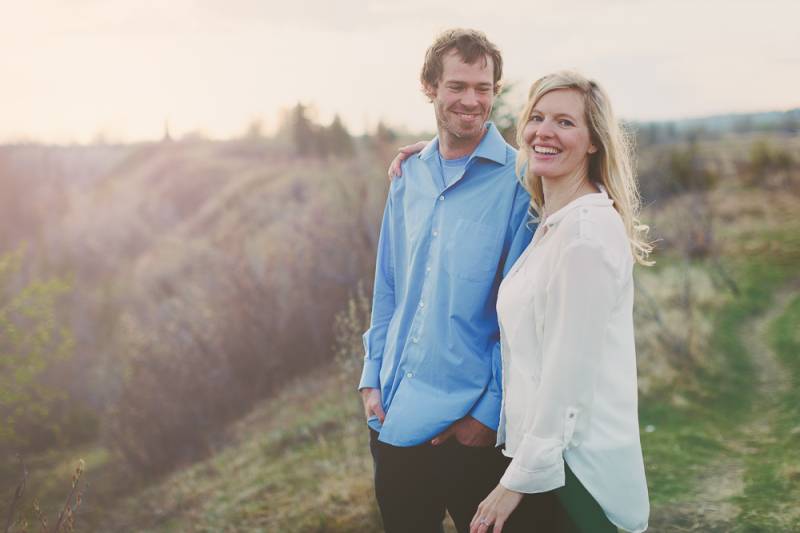 Chris planned to propose to Claire at Christmas time, but his plan was foiled when the engagement ring wasn't read in time. With his first plan nixed, Chris decided to wait until he could find a special moment and ended up carrying around the engagement ring for almost two months. Finally the day came, Claire and Chris found themselves in Banff for a relaxing Sunday at the Fairmont Spa. After spending the day relaxing they went out to a local Banff pub for dinner and as they walked back Claire stopped to take a photo of the gorgeous sunset over the mountain. This was the perfect moment and Chris couldn't wait any longer, he pulled Claire aside and asked her to marry him. Surrounded by the bursting shades of pink and purple and the beauty of the mountains she said "of course I will!".
A huge thank you to Nicole Sarah Photography for sharing this gorgeous engagement session with us and this beautiful Banff proposal. We love the romantic, golden kissed photos and the love of this beautiful couple.