Today we have a beautiful summer wedding to share with you, a wedding inspired by beautiful alpine meadows and mountain flowers. After their engagement, Jennifer and Luke tossed around different wedding ideas and finally decided on a small, intimate wedding with only their family and dearest friends. Although it was a small wedding, Jennifer and Luke chose one of the most beautiful locations, where they would be surrounded by incredible natural beauty along with the love of their family on such a special day. The wedding took place in the mountain town of Canmore a the luxurious Silvertip Golf Course. They chose a local and incredibly talented Canmore wedding photographer, Kim Payant Photography for capturing all the memories and moments of their wedding day.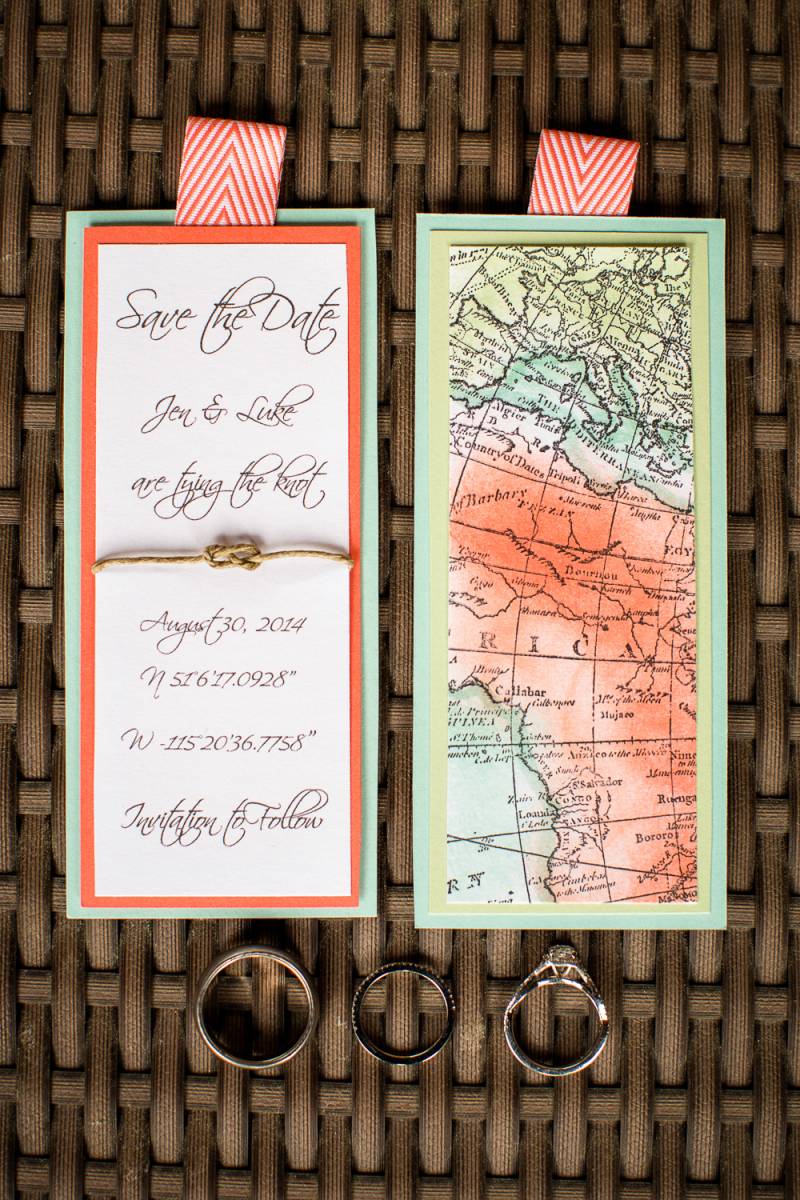 Jennifer created all the incredible stationery for the wedding on her own. She brought together their beautiful palette of peach, pink, light green and teal beautifull with organic and modern elements throughout the entire stationery suite.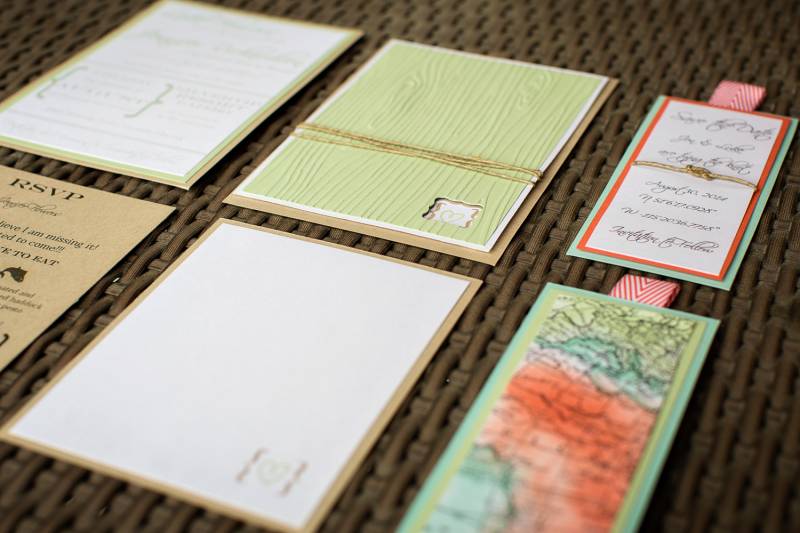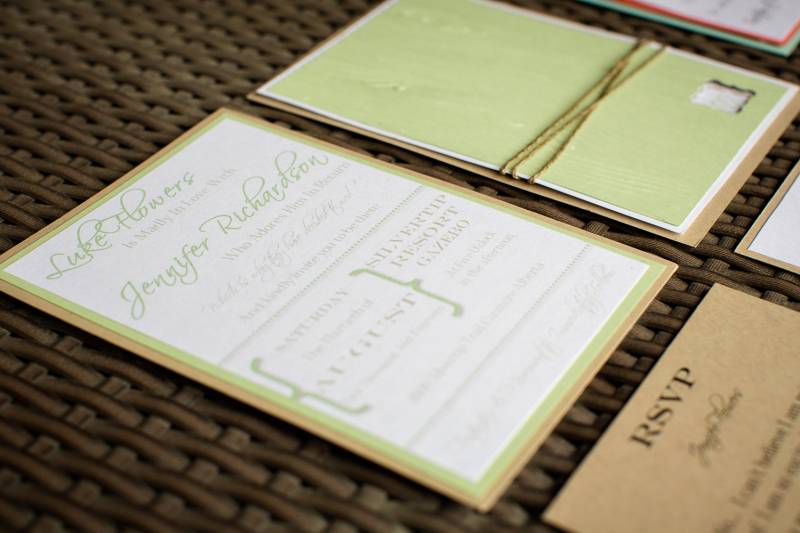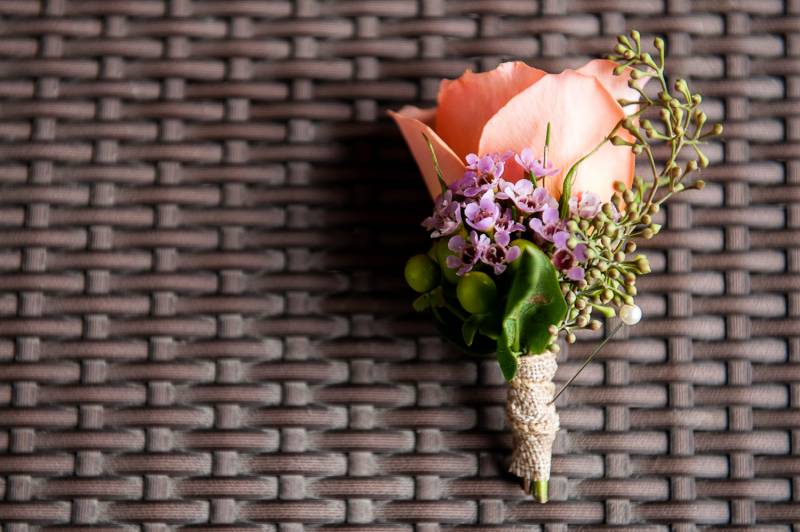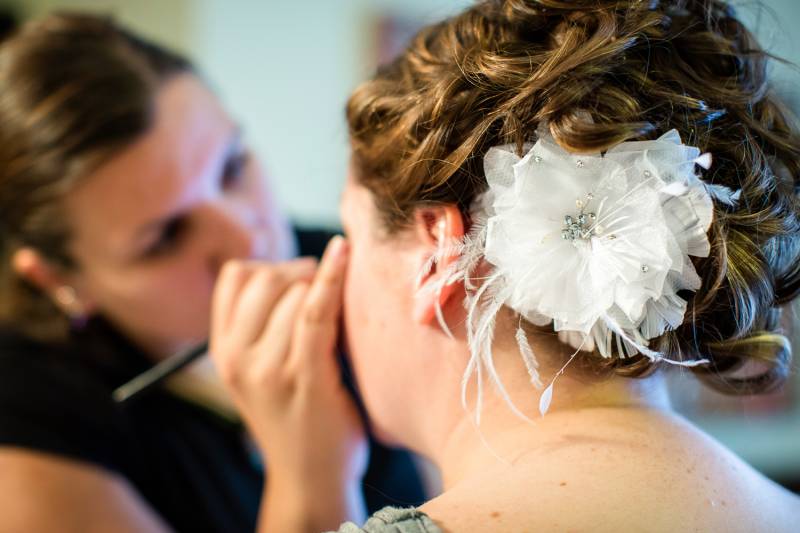 Jennifer didn't want a worry on her wedding morning and hired mobile hair and makeup artist Tracy from Finding Forever After to help her get ready perfectly.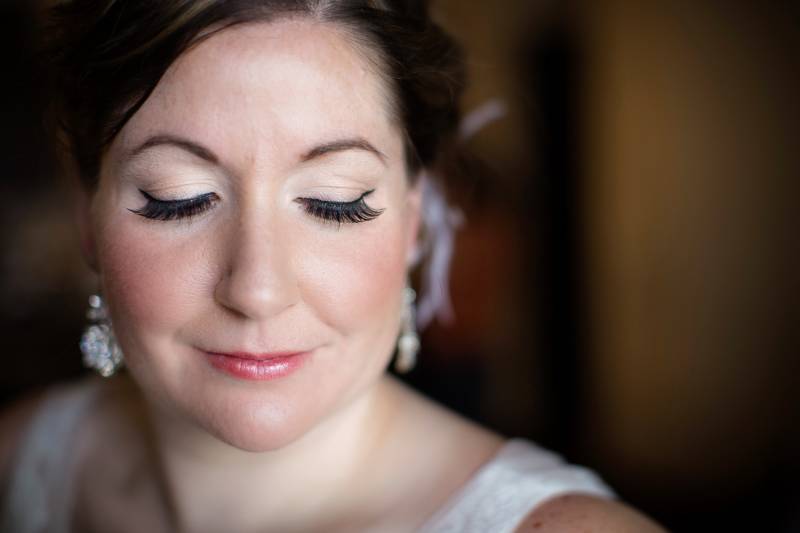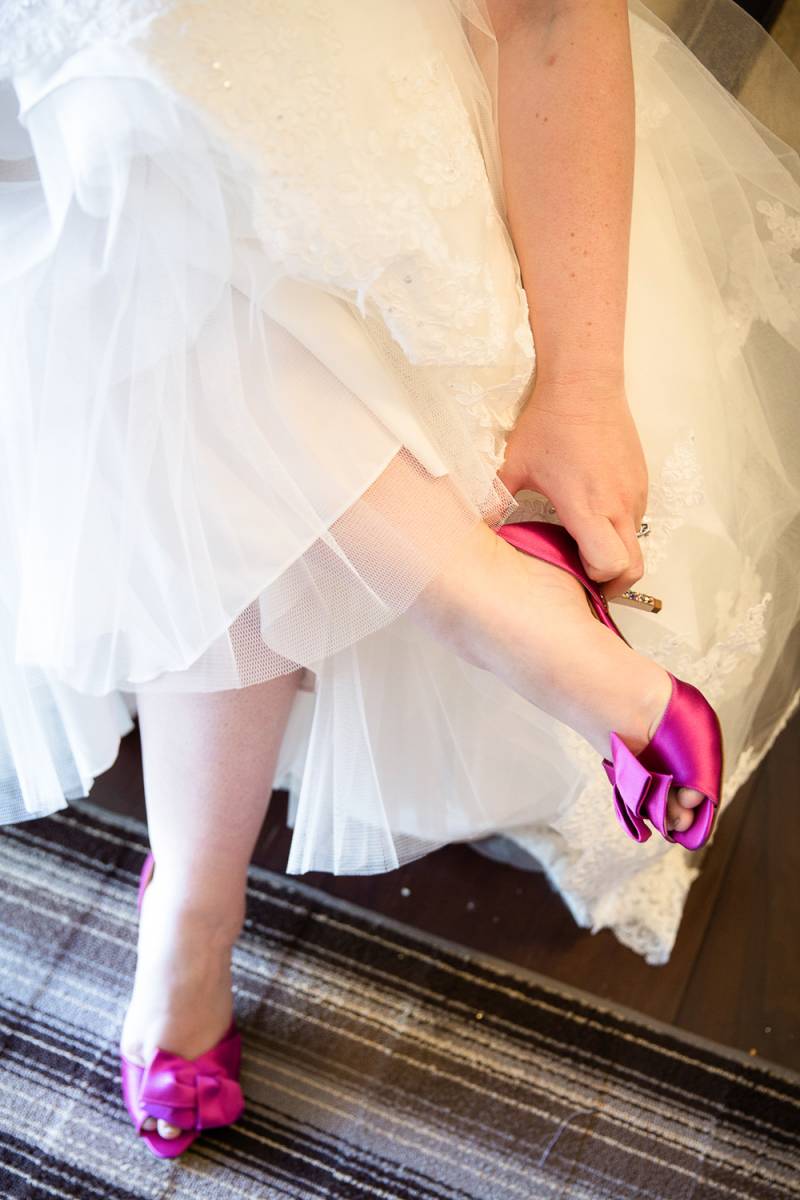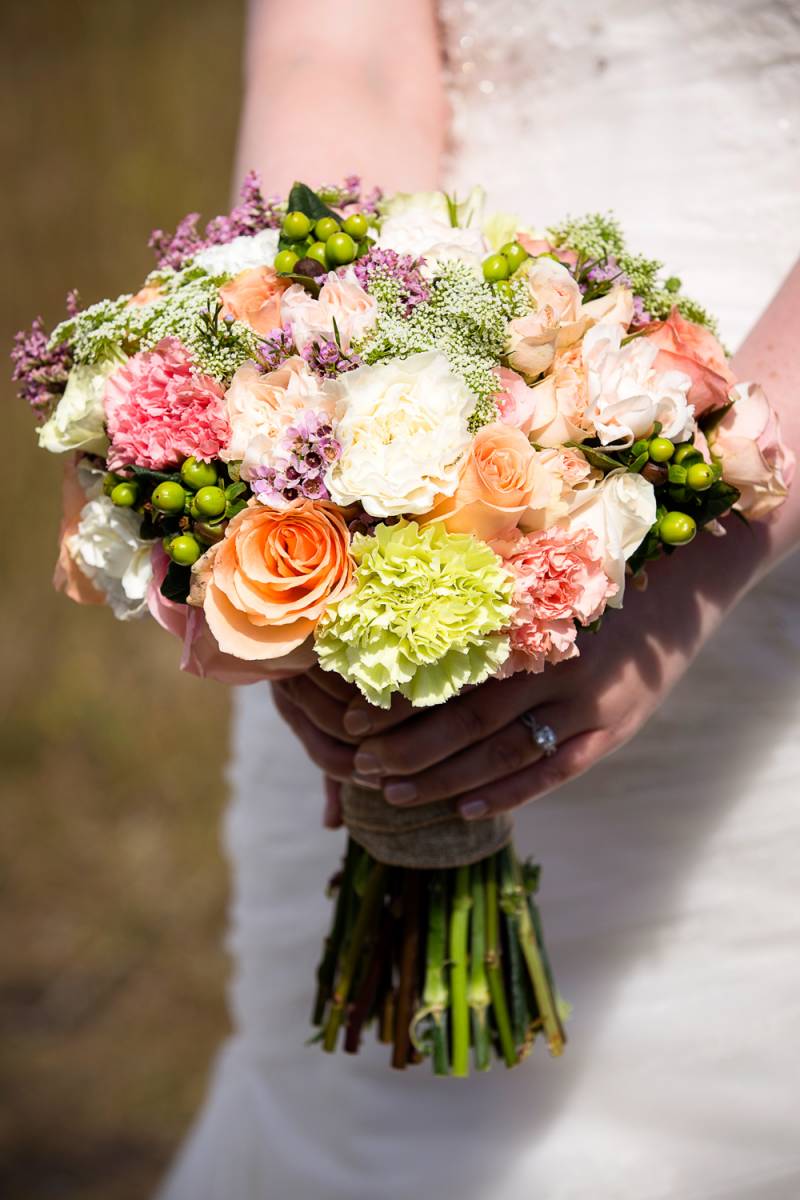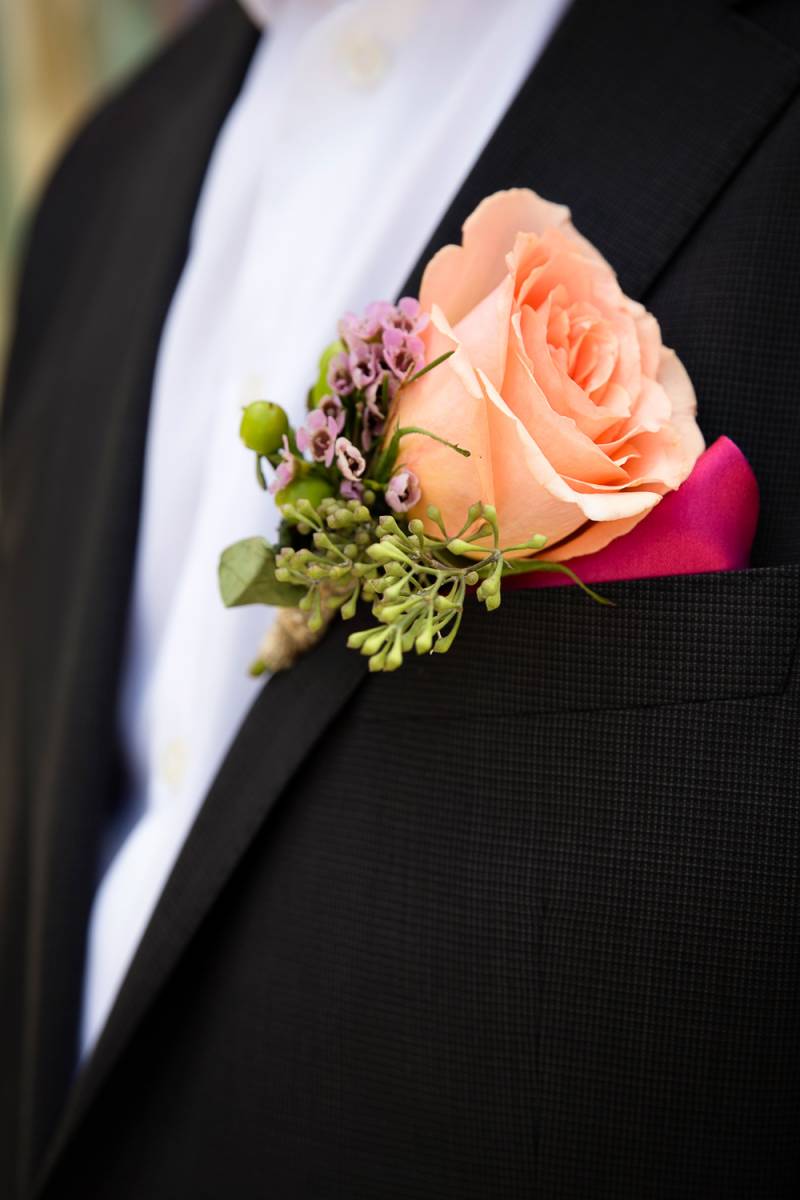 There's nothing like a clear summer day in the mountains for the most breathtaking wedding portraits! As a local Canmore wedding photographer, Kim Payant Photography knows the ins and outs of finding great locations in the mountains with sweeping mountain vistas, crystal clear rivers, and gorgeous meadows. You can tell when a photographer knows the area and Kim pulled off amazing photos of Jennifer and Luke that will forever remind them of the beauty and wonder of their wedding day.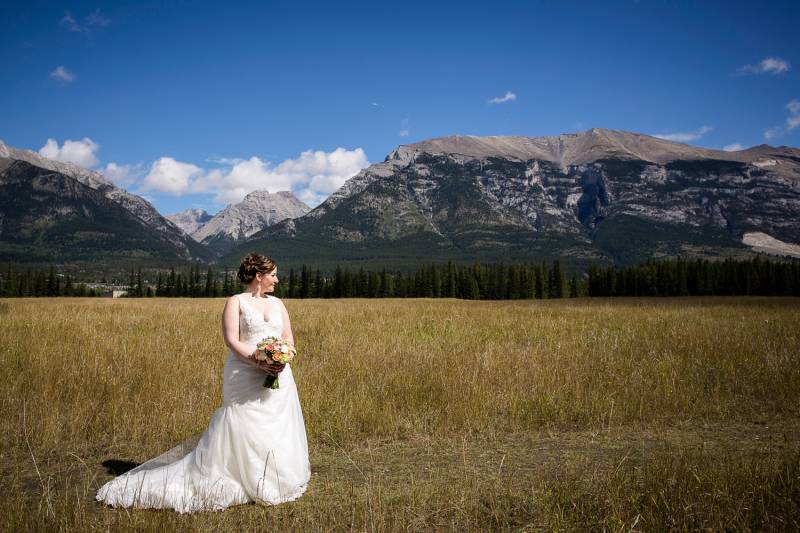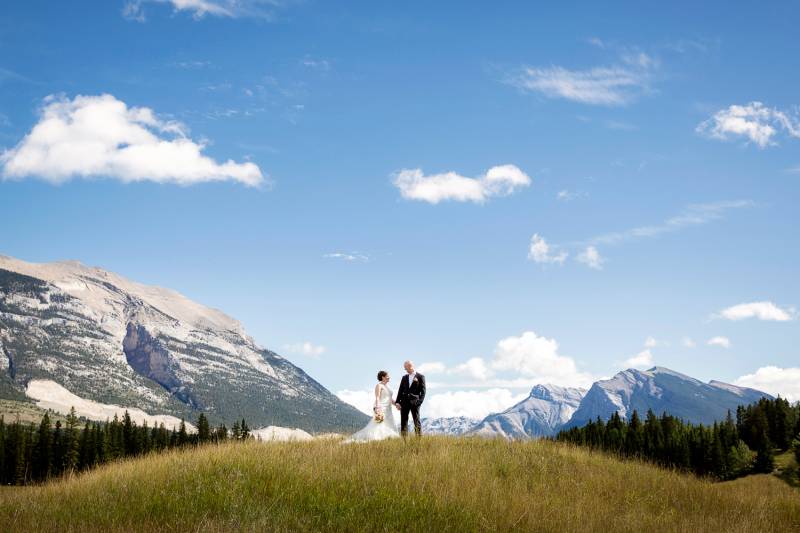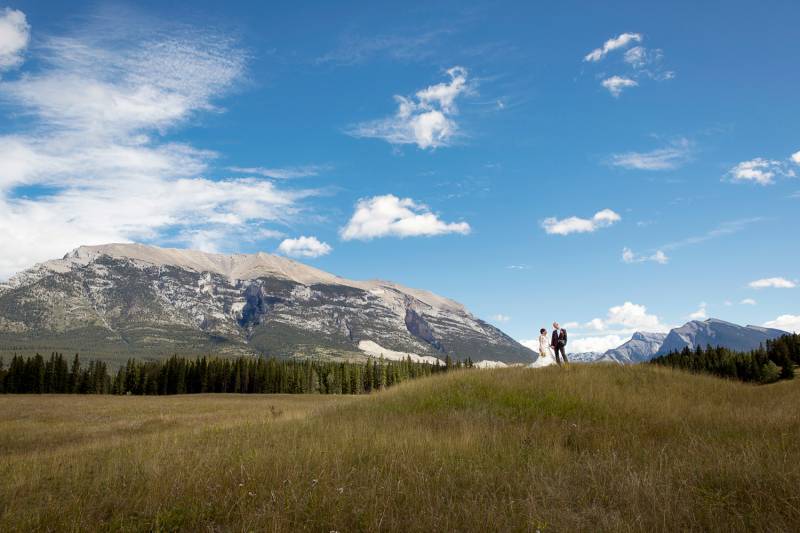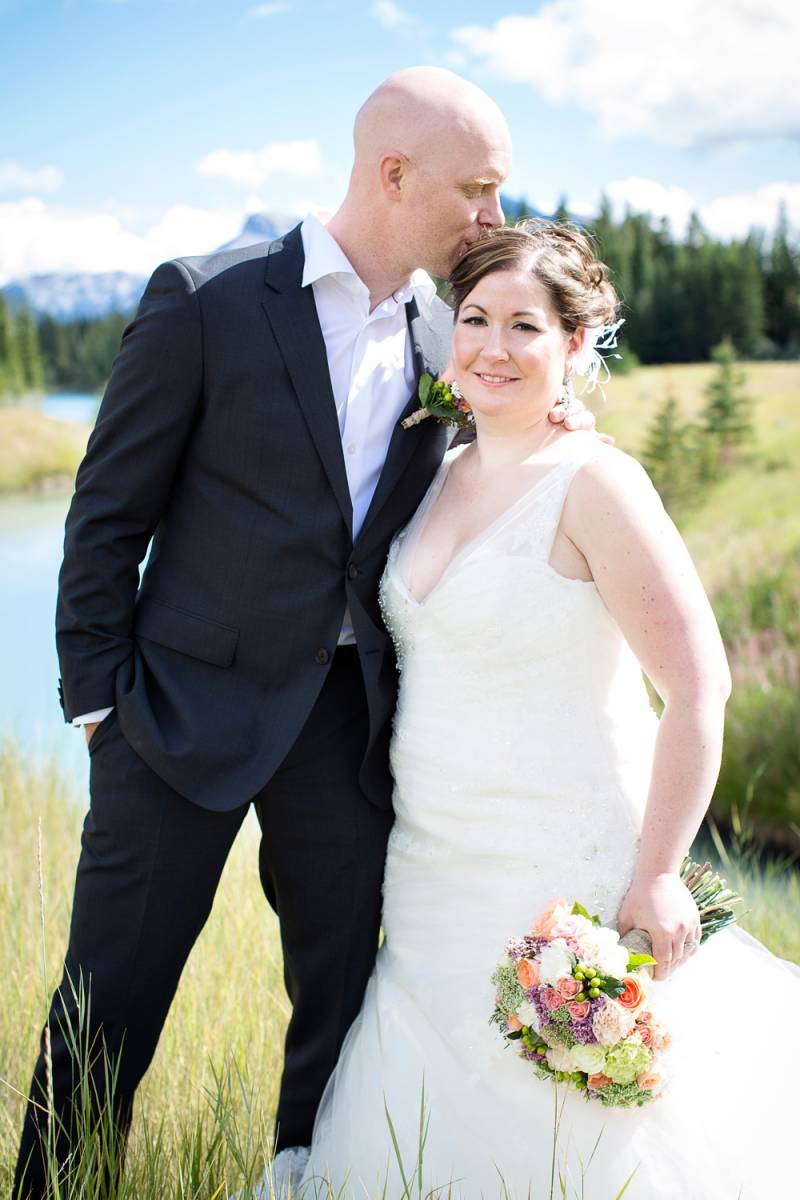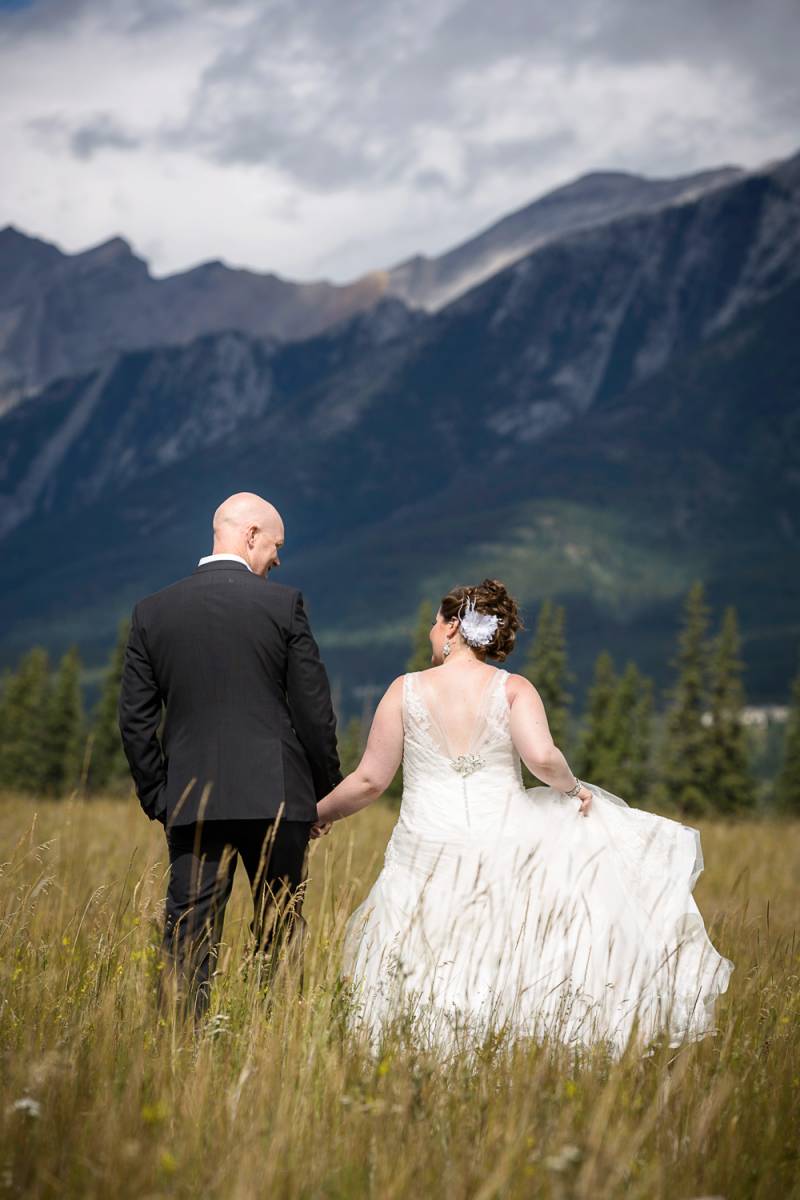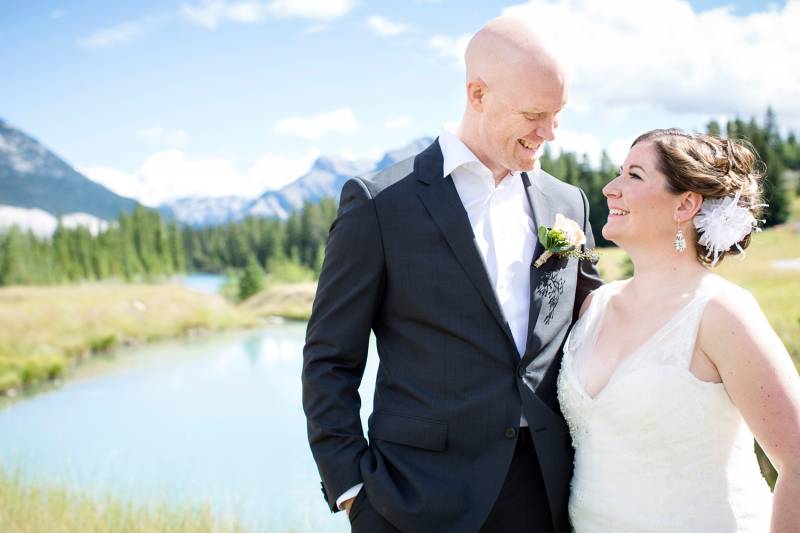 The Sophia Tolli gown from Novelle Bridal Shop in Edmonton looked perfect for a garden inspired mountain wedding.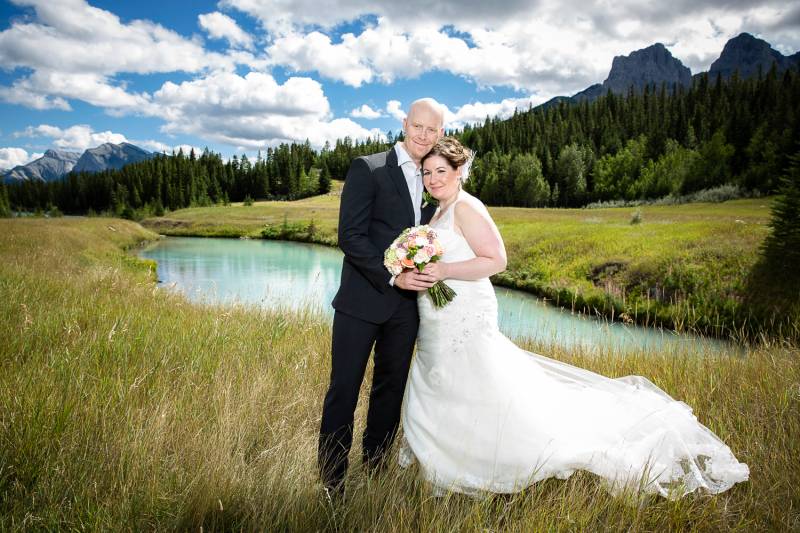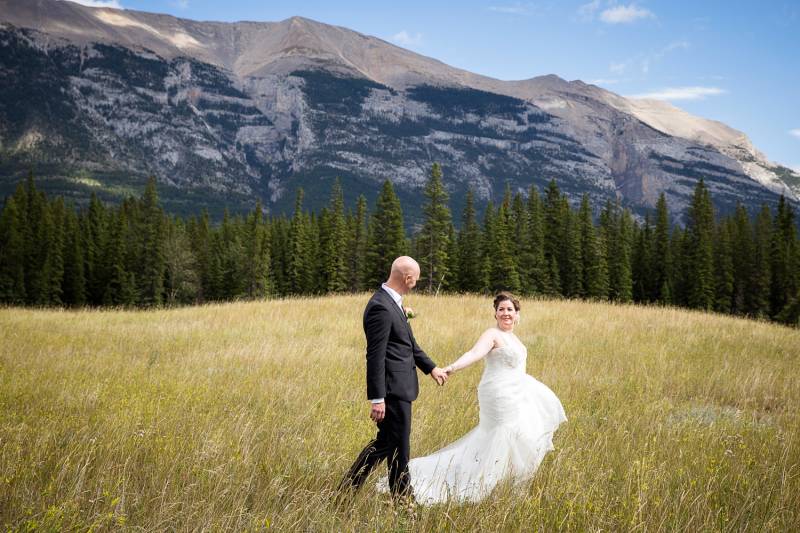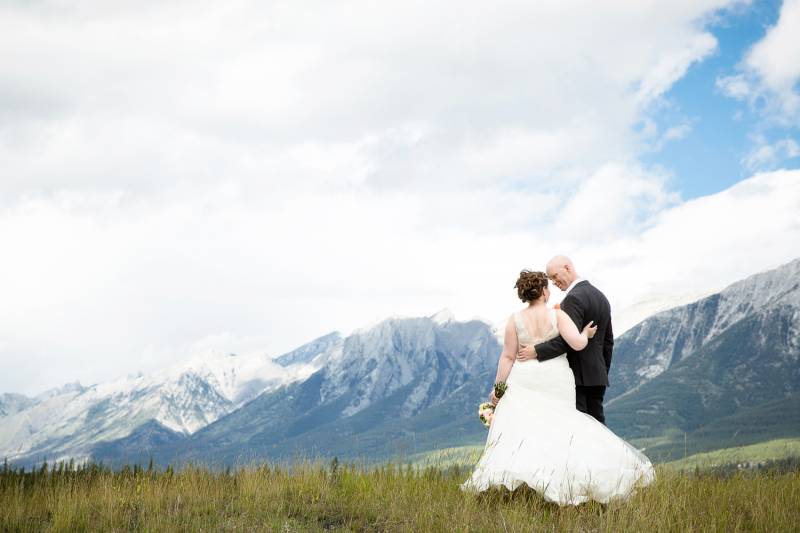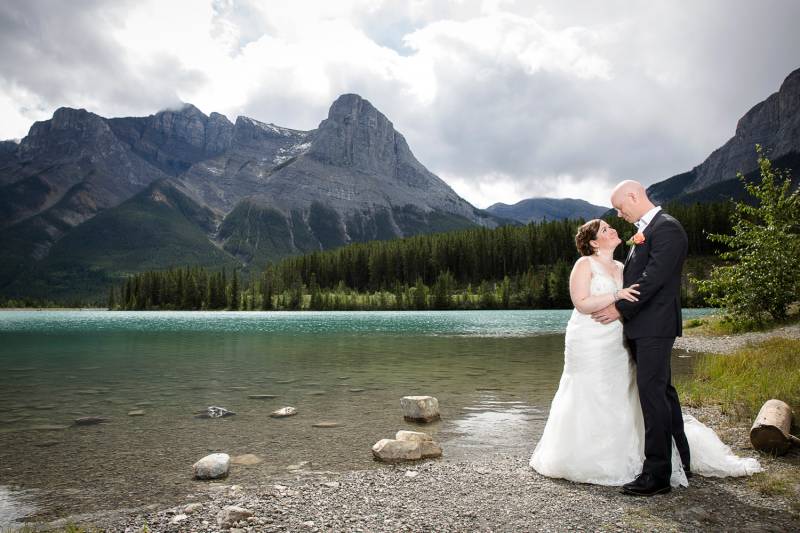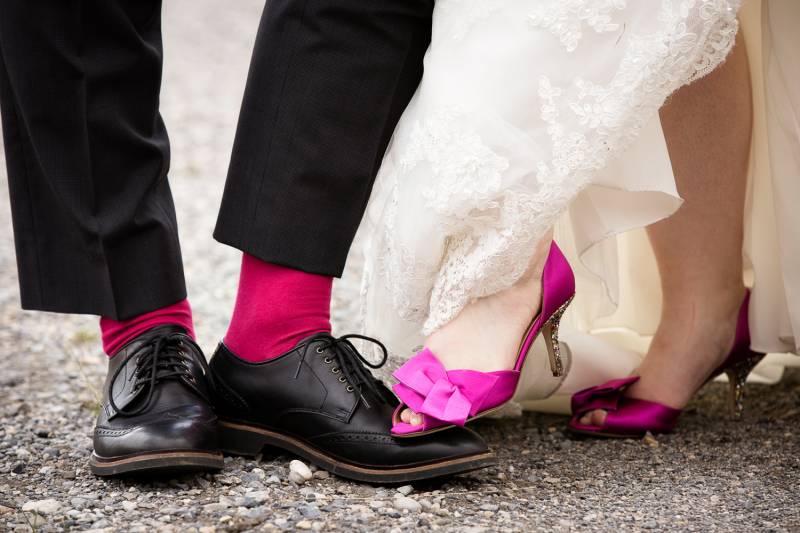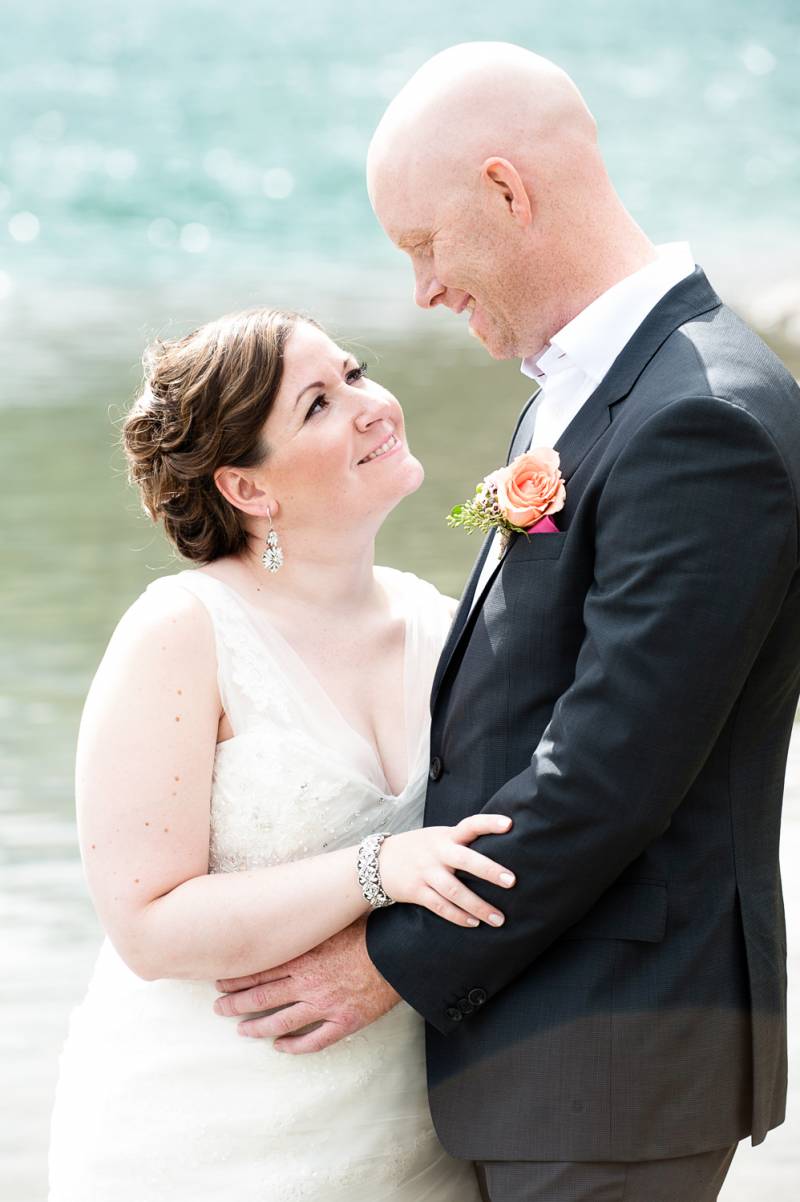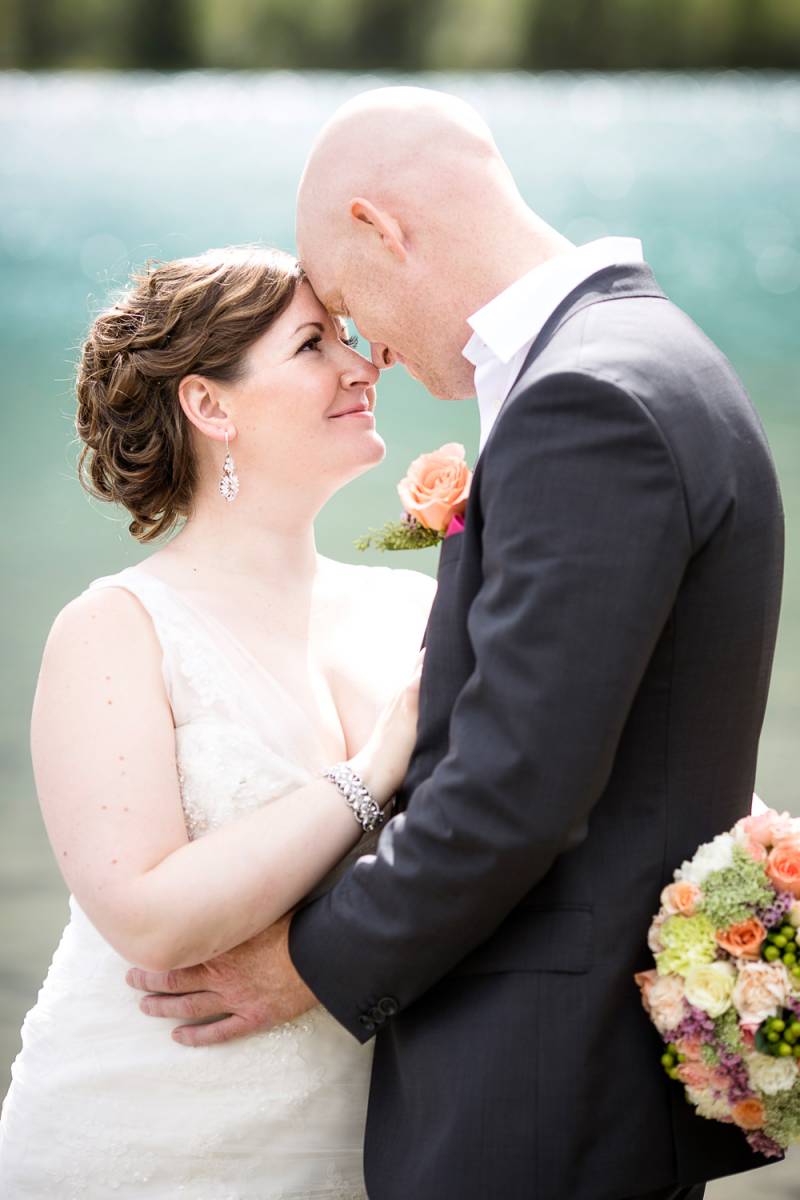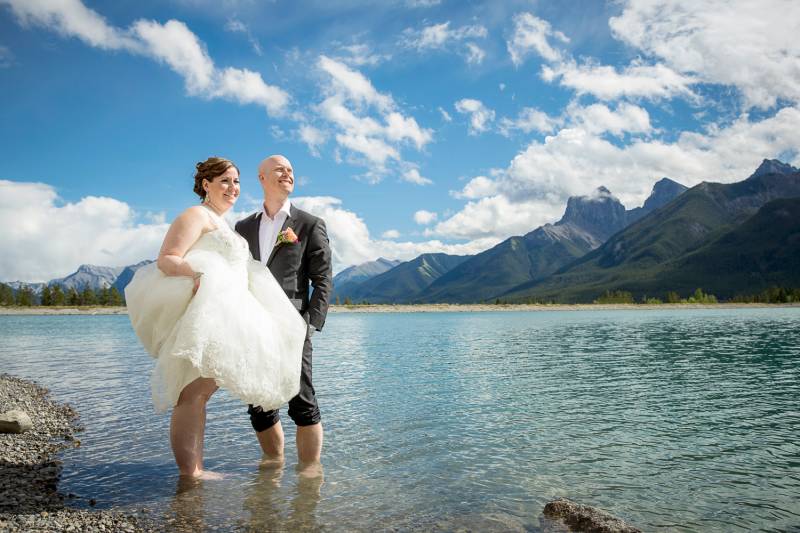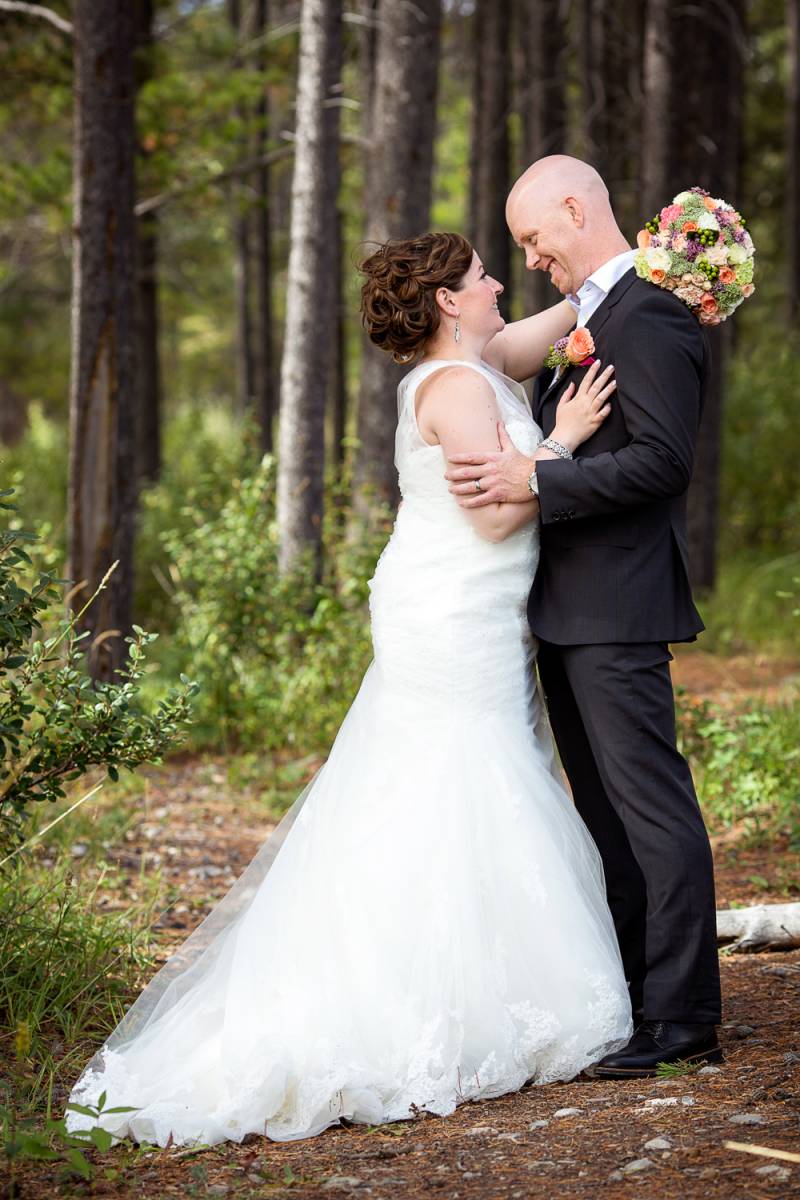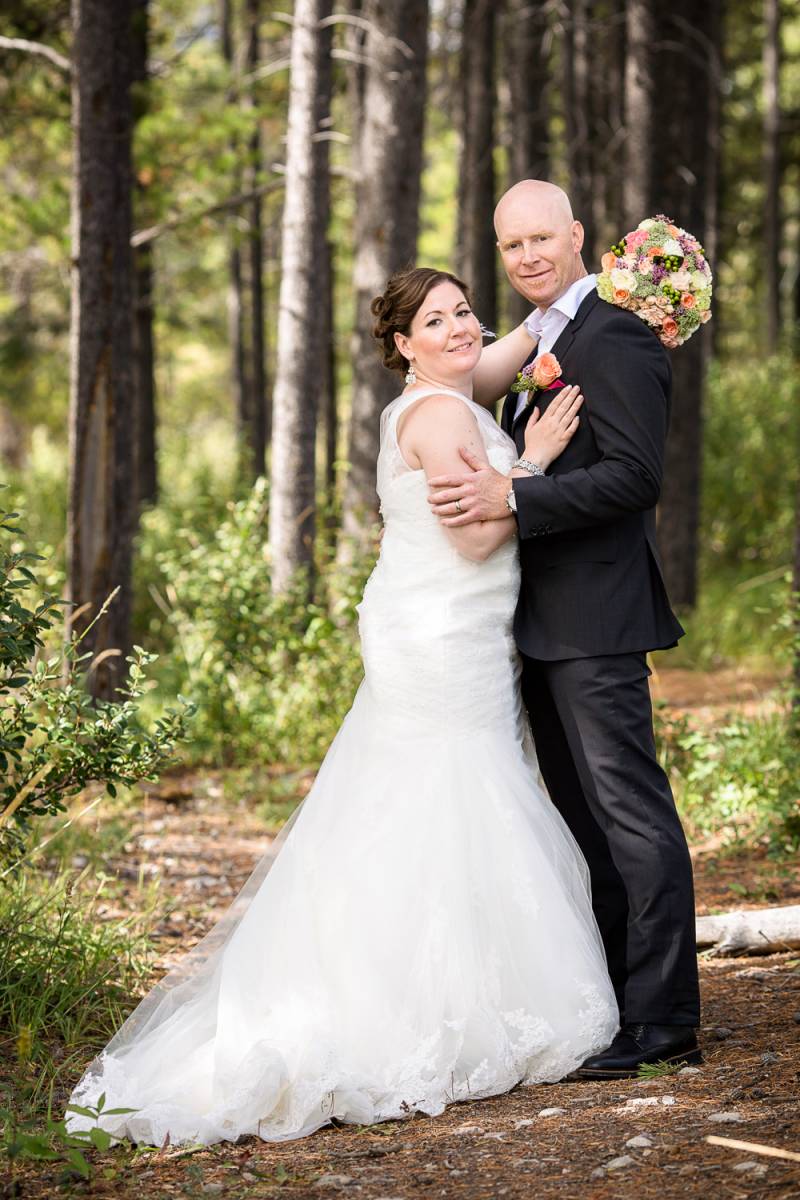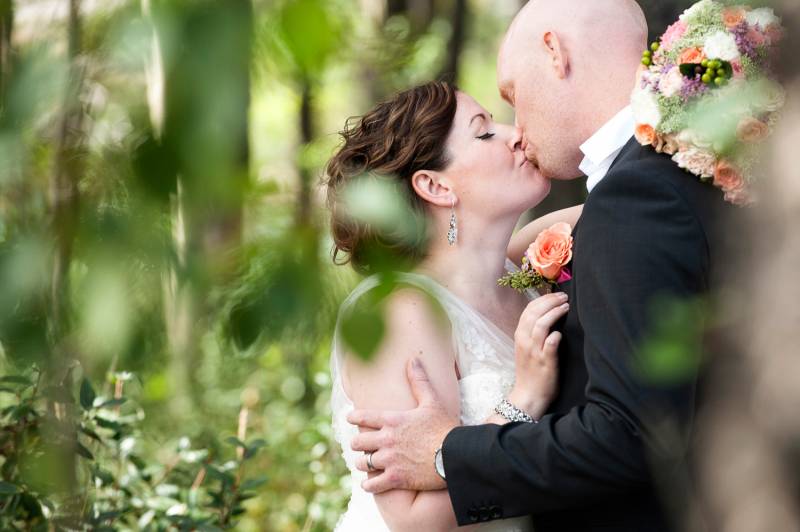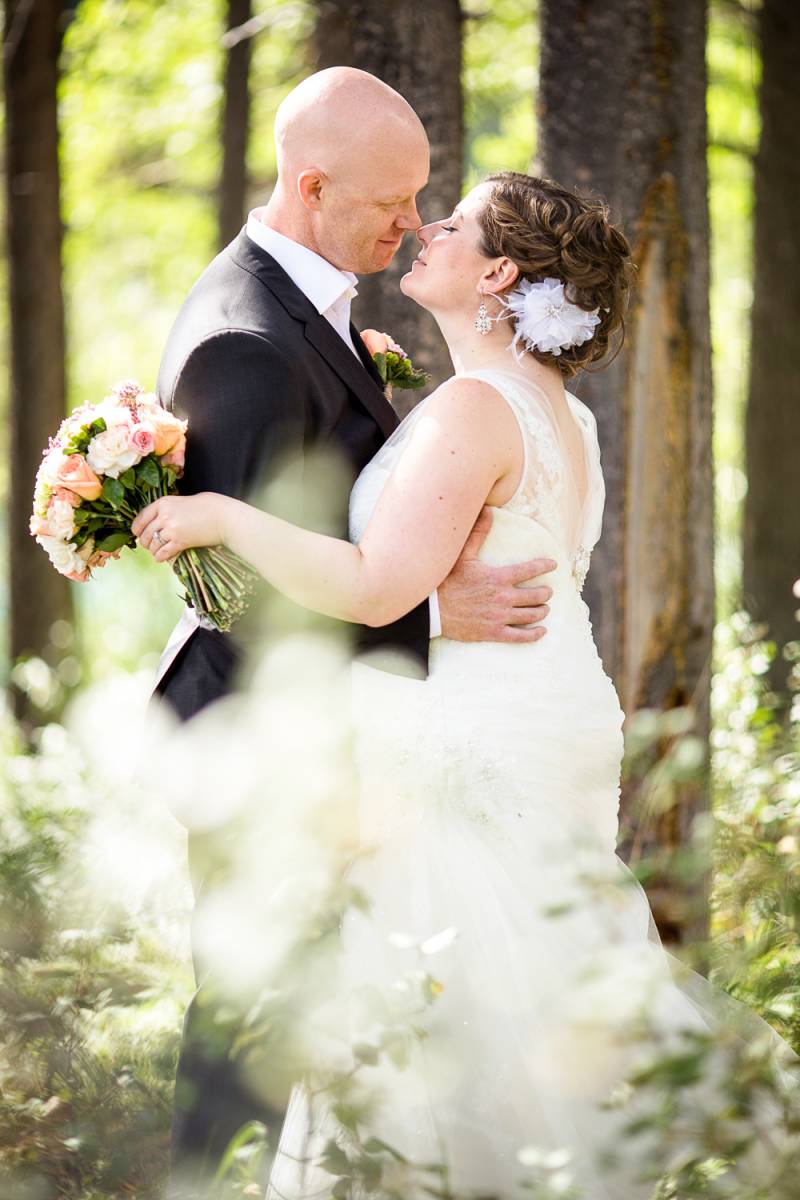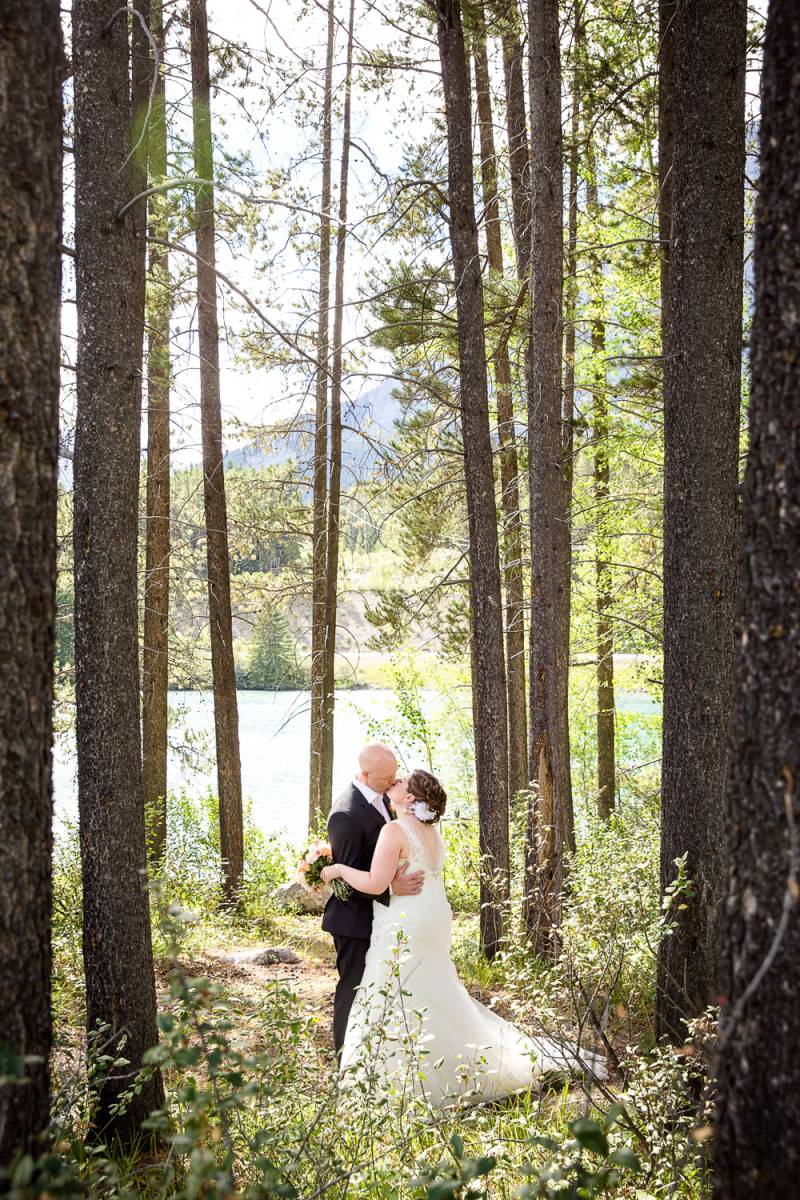 The wedding ceremony took place outdoors at the incredible Silvertip Golf Course where it feels like you are literally on top of the world. Completely surrounded by mountains and looking deep into the beautiful green valley Jennifer and Luke spoke their vows and committed their lives to each other. It was a beautiful and personal moment surrounded by their closest family and friends. I love how Banff wedding photographer Kim Payant Photography captured the ceremony with all of it's natural beauty along with their beautiful emotions so perfectly.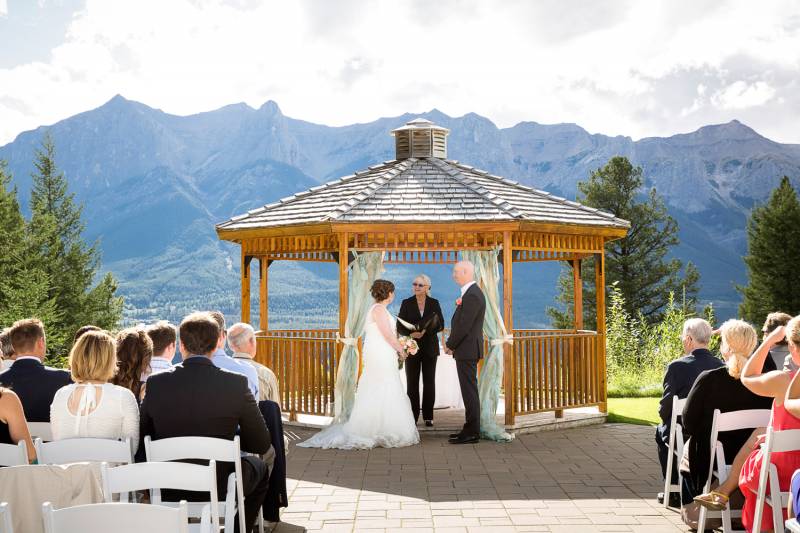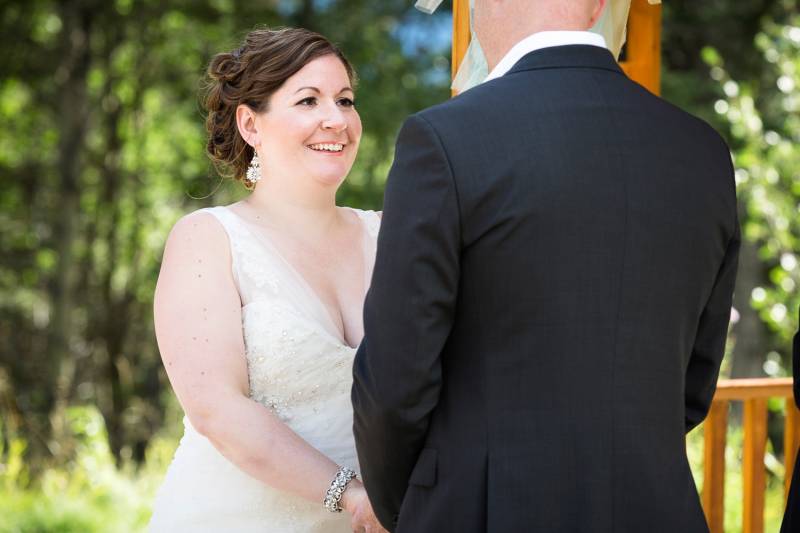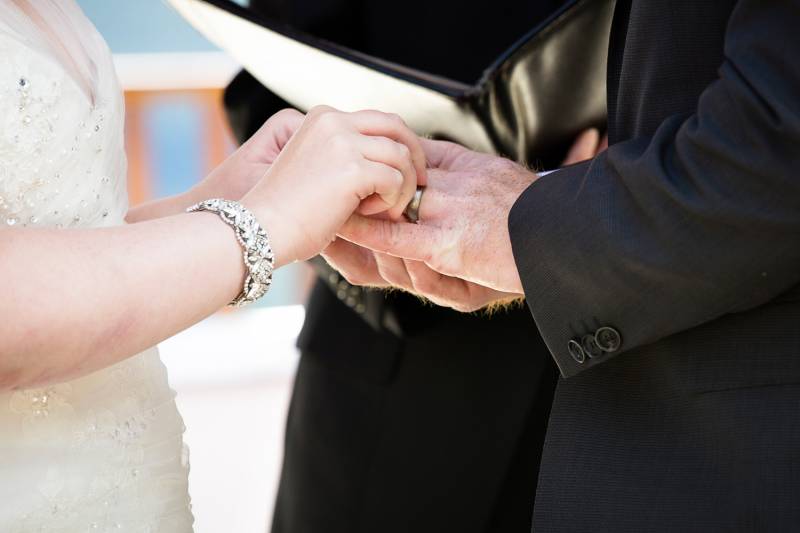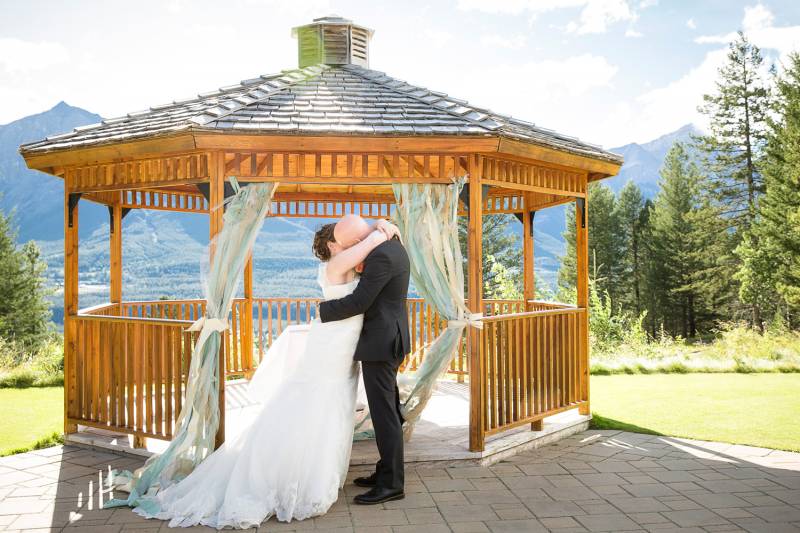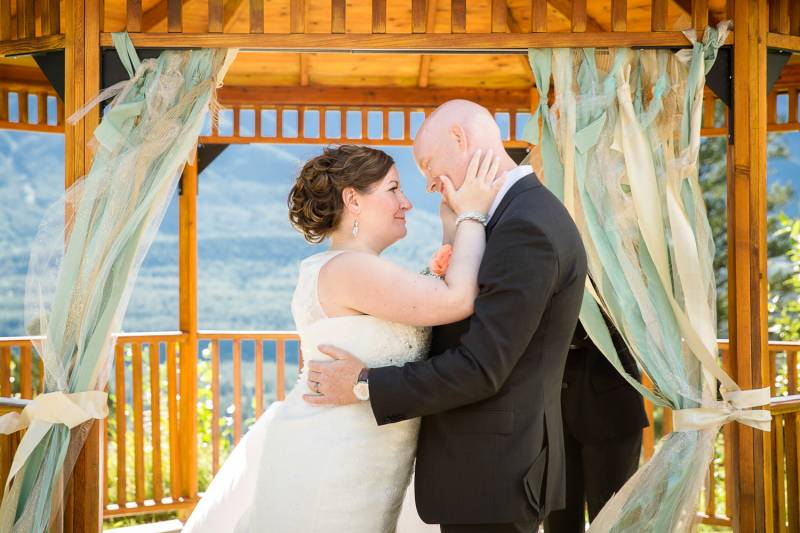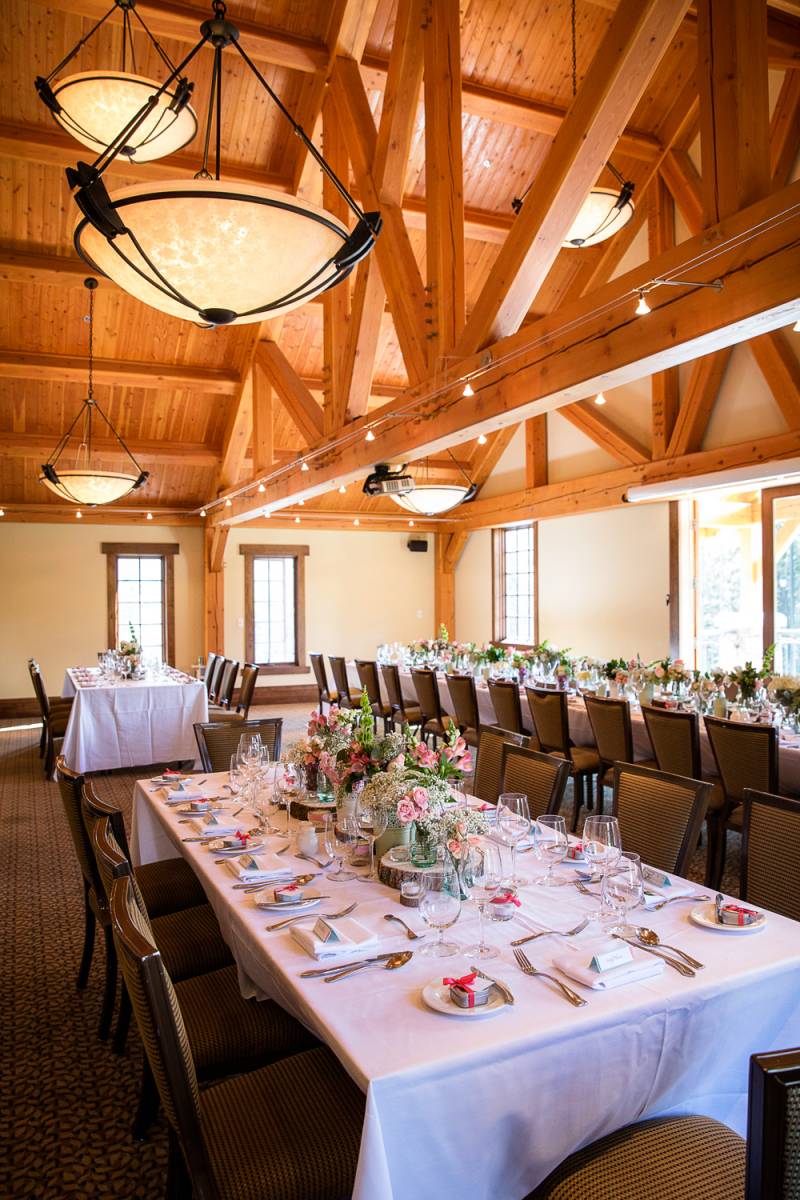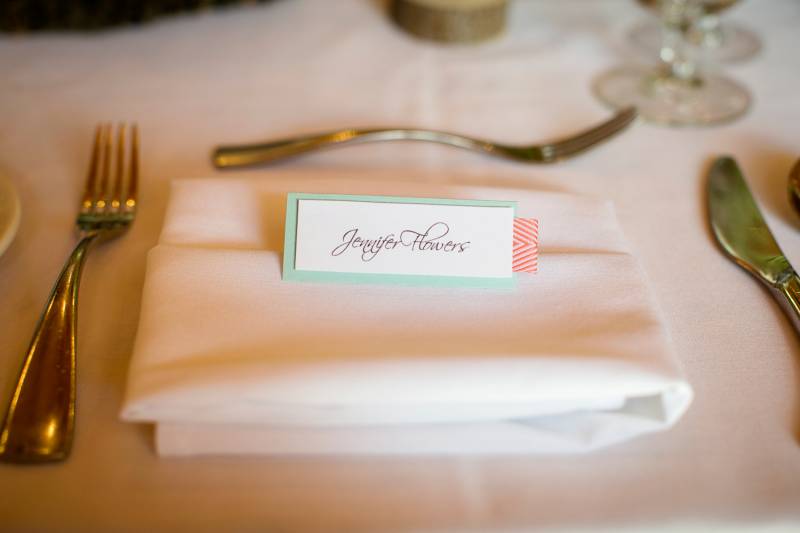 Jennifer wanted to bring the natural beauty of the mountains and the beautiful summer meadows into her wedding reception which inspired the mix-matched vases in various sizes and the beautiful loose flowers and greenery. The look came together perfectly and the garden inspired reception looked stunning and natural. Although the flowers looked absolutely effortless. it was really the hard work of Jennifer and her florist Jewels and Rays that made the reception so stunning.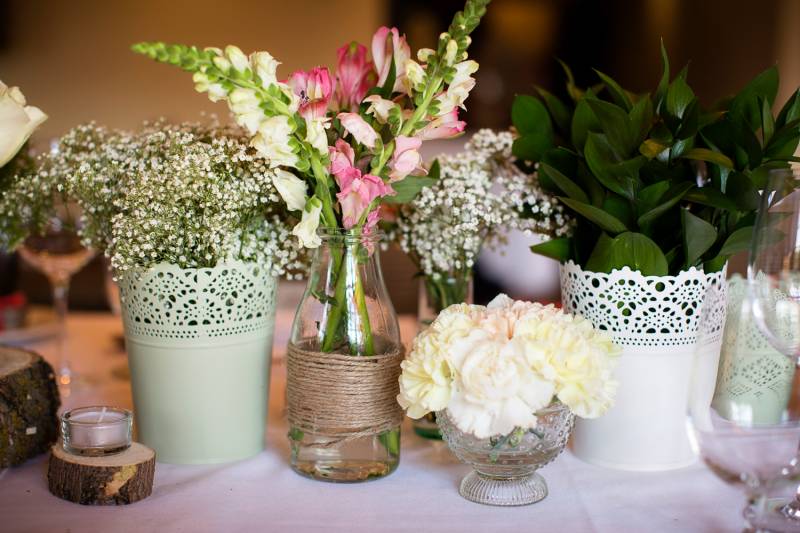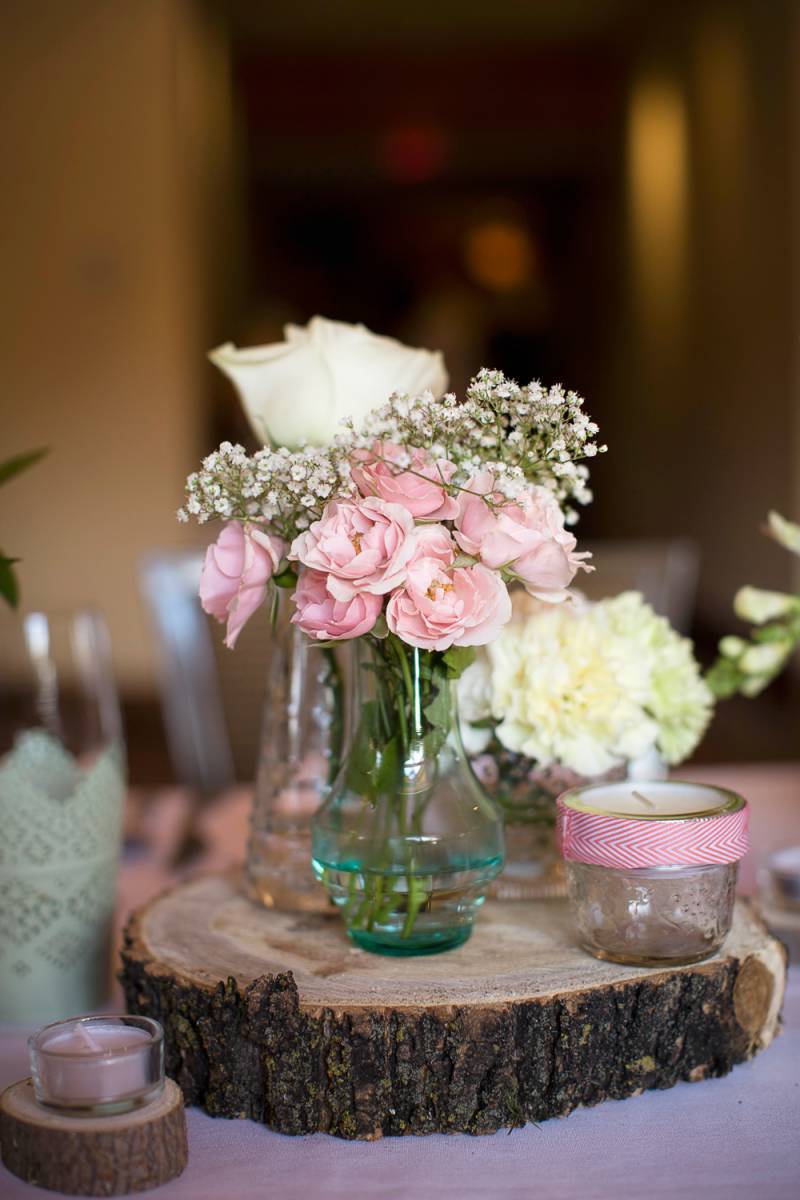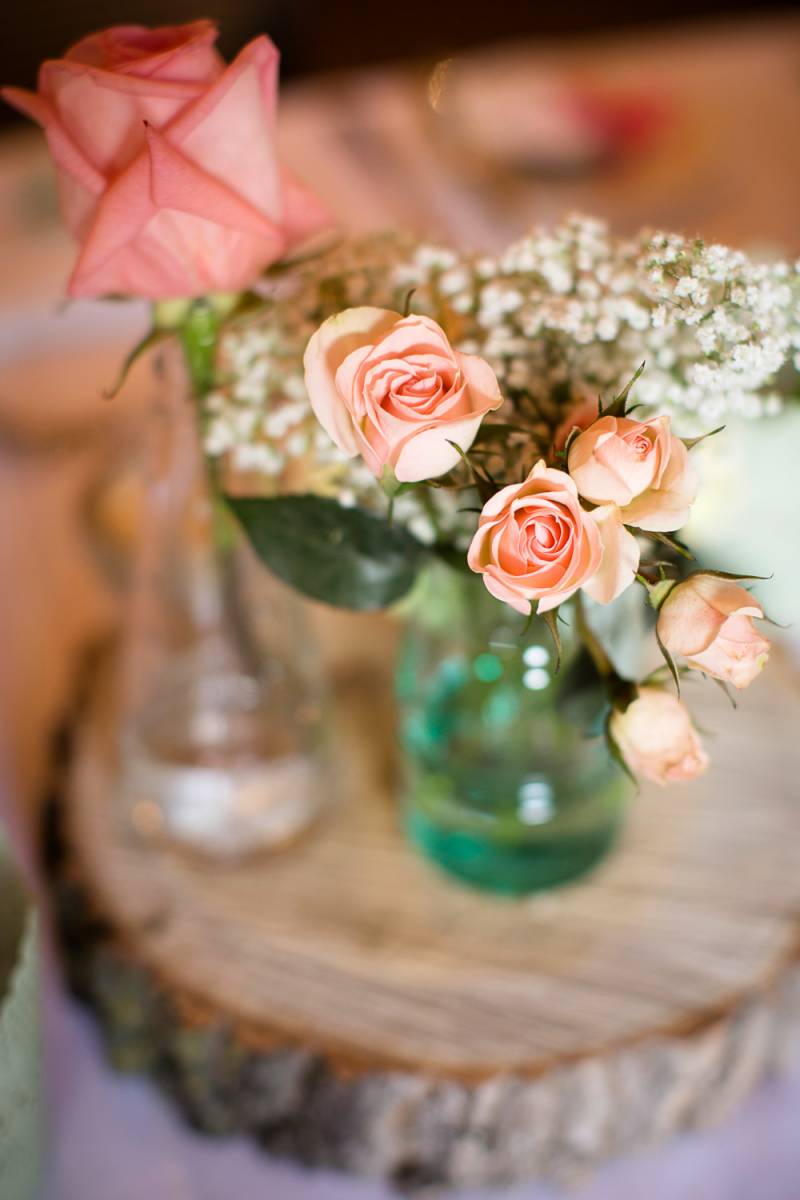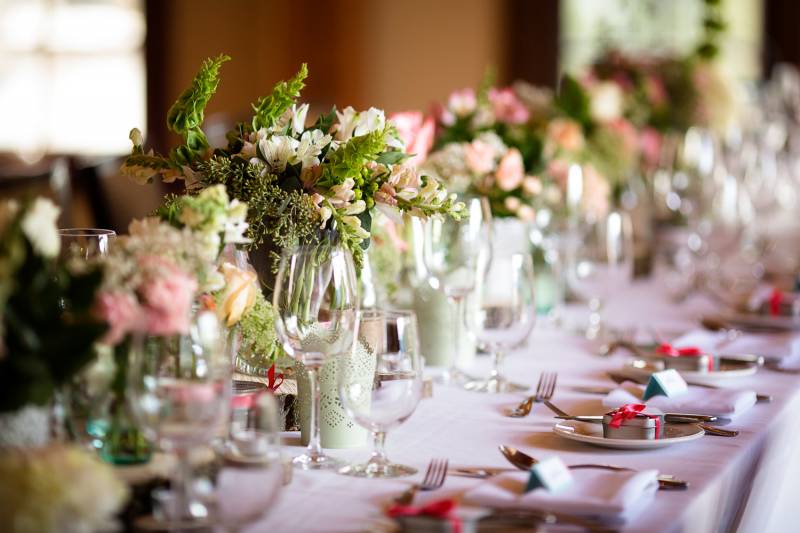 Rather than a traditional wedding cake, Jennifer and Luke decided to create an amazing cookie bar filled with their favourite homemade cookies and treats for their guests. Along with the cookie bar they made a fun rice krispie wedding cake, trimmed with pink ribbon and topped with beautiful fresh flowers. Designing a cookie bar was not only fun and delicous but it brought together their friends and family who helped contribute and bake their best recipes for the bride and groom.