We love discovering amazing wedding photographers, they are such a huge part of your wedding and creating the photos you will cherish forever. Today we are excited to bring you a special interview with the award-winning Just Married Photography.

Just Married Photography is a husband and wife team based in Edmonton with a love for travel, adventure and the mountains. They are such a fun-loving and down-to-earth couple you will love to work with, and it sure doesn't hurt that there photography is absolutely stunning. These two have being winning photography awards consistently for over 10 years and continue to love photography for the art of photography even more fiercely. We had a chance to catch up with them and ask them a few questions so you could get to know them a little better. Be sure to read on if you're looking for a great dose of inspiration, beauty and the perfect answer for an Edmonton photographer or an amazing rocky mountain photographer!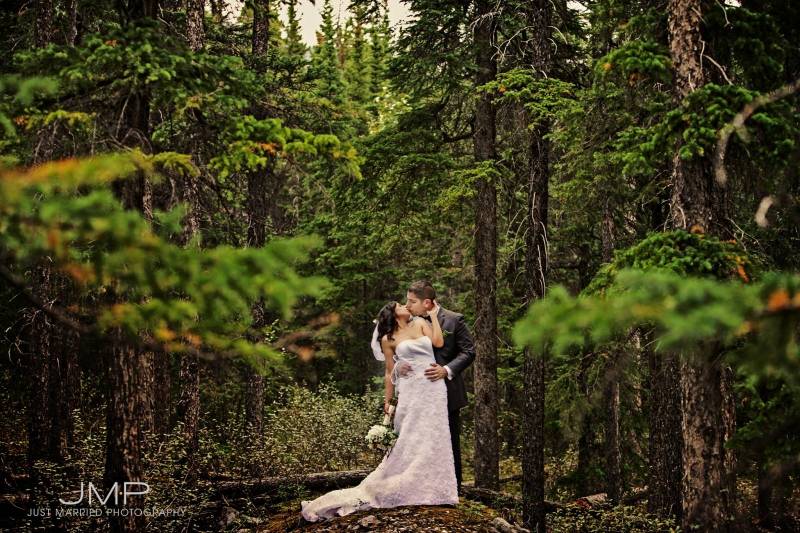 How did you become a wedding photographer? Tell us a bit about you and your history behind the camera.
I picked up my first camera in 1998, purchased with my own allowance life-savings. It was a 2 megapixel Kodak point and shoot camera which took 1 minute to start up and was super expensive at the time. I loved that camera and it still works! I remember taking something like 1000 pictures in the first two weeks, experimenting with bokeh and other photographic elements. From there I moved up quickly into the DSLR world and began shooting events and such. I officially moved into weddings professionally in 2003 when I started Just Married Photography. The rest has been an amazing journey around the world shooting some amazing people.
If there's one thing you would want us to know about you, what is it?

I appreciate diversity. People come from all different walks of life from the sciences to the arts, and different ethnicities, traditions and upbringings, and leanings. I personally value diversity as I consider myself a very diverse person and the ability to relate to different people has been a very wonderful thing.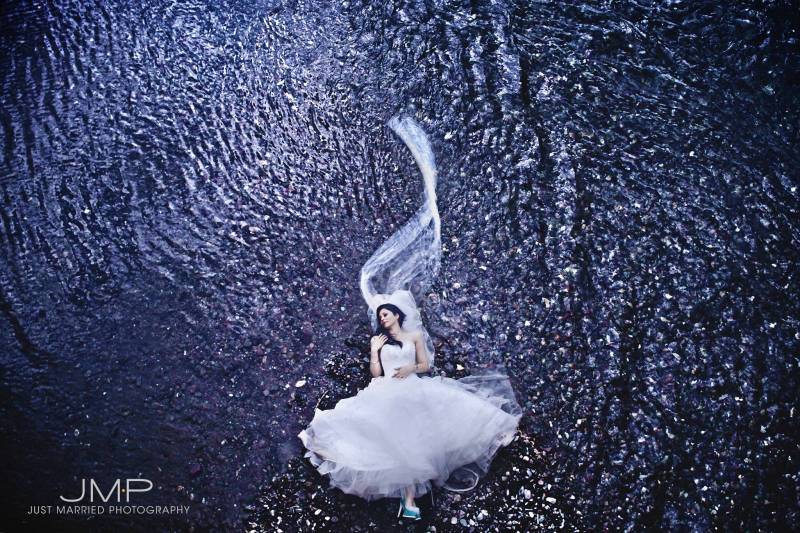 How would you describe your style?

Experimental, explorative, boundaryless. Art to me is a continuum of expression. The only real boundaries are the boundaries that exist in our own minds as to what we will or will not accept or explore. But there is no single style that is better than another - because art is art. Wedding photography to me is an art and I believe my art should be constantly changing and evolving. For that reason my style will change as I explore different genres - and I think my couples accept this about my work as they enjoy the sense of uniqueness of my work and the creative process.

What is your favourite part of a wedding day?

The couple session. This is the time when there is no one else but the couple and they must look at each other for that moment in the day and focus on each other. Afterall, the wedding is really all about the union of two people, but the details, the attendees, the brouhaha, is can all add up to detracting from the focus of the couple. I love being able to share that moment with my couples while we create art of their love.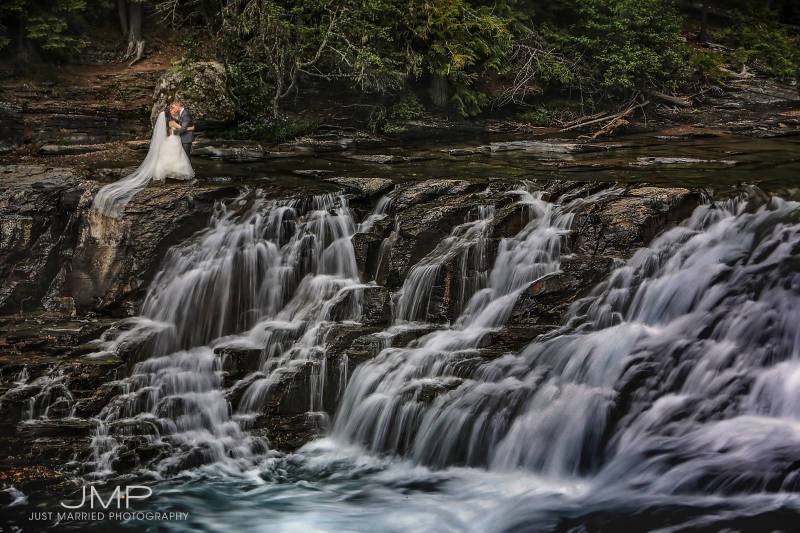 What are your best tips for brides and grooms about wedding photos?

Style is everything. Quality is important too, but if you choose a photographer with the wrong style but good quality, you still won't be happy. Style is the connection of the soul speak of the photographer with you as a couple. This is a deep and intimate relationship and should not be glossed over. Pour over the work of the photographer that you wish to book, and be sure that there is a connection with what the photographer sees and how they see things, rather than imposing what you want to see into the work of the photographer.

Engagement session - yay or nay? Why?

Yay to engagement sessions. They are a time of connection between the couple themselves, and the couple with the photographer. Weddings are always better when there is that existing relationship between photographer and the couple.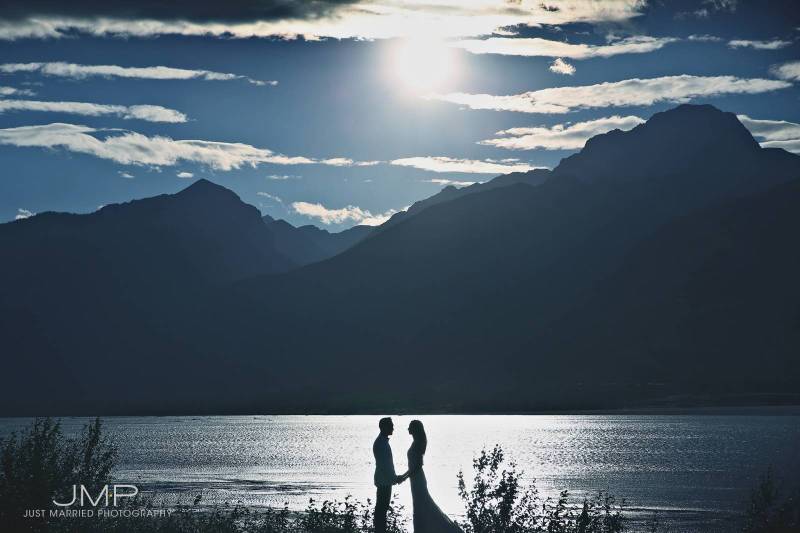 What is your favourite thing about weddings in the Rocky mountains and/or Edmonton weddings?

There's hidden beauty everywhere in the world. Whether in the Rockies (where there is a plethora of obvious beauty), or in Edmonton or any other location in the world. The key is finding that beauty, discovering it new, and creating something that is memorable from it.

If you could travel anywhere in the world right now where would you go?

Costa Rica - My dream is to trek through the rain forests someday with camera in hand.

What is one thing you cannot live without? And any other funny or quirky things we should know about you?
I cannot live without my wife. She is my everything, my business partner, my other half. She keeps me grounded, and gives me wings to fly all at the same time. Without a doubt it is my wife Laura.

I have two degrees, one in computer engineering and another in pharmacy.

I have written and published two collections of poetry in my life.

I'm color blind.

I have two puppies - Happy and Piglet - whom I love very much.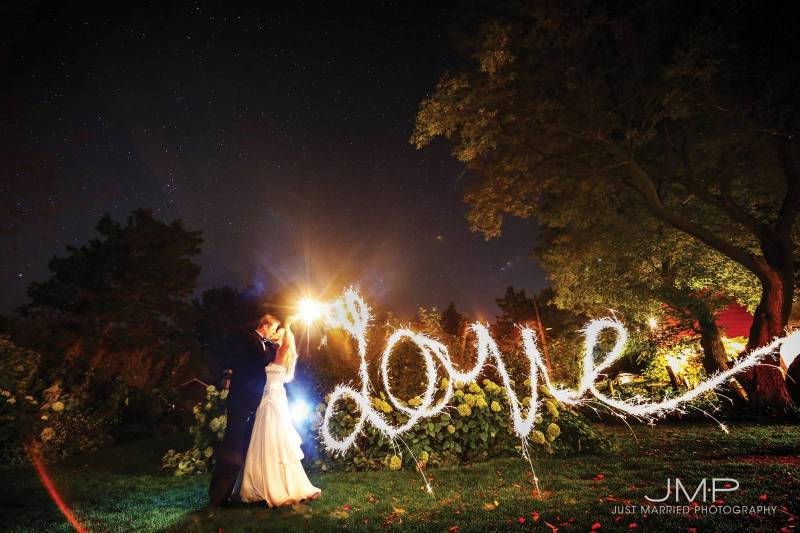 About Just Married Photography

Just Married Photography has been in existence since 2003. We have travelled around the world shooting weddings from the USA, to the Carribbean, to Africa. We have won numerous awards internationally from the WPJA and AGWPJA, to ISPWP, PWPOC, and Fearlessphotographers. We have been featured on the media by the Edmonton Journal, Calgary Herald, City TV, Stylemepretty, Blush Magazine, Wedding Bells, and Wedluxe. We have been named one of the top 25 wedding photographers in Canada by Wedding Bells in 2009.
That said, despite all of these achievements, I do not as an artist, believe in looking back so much as looking forward. The labor of love is to constantly grow and evolve our work.