Today I am excited to share a gorgeous, sunny Canmore wedding with you from a very talented local Canmore wedding photographer, Photoflow. Dionne and Branden travelled from the prairies to take in the breathtaking majesty of the mountains for their wedding. They celebrated their love for each other beneath the beautiful blue skies and fresh air of the mountains and danced the night away at the Coast Hotel. The wedding was filled with intimate moments and special touches but the most beautiful touch was Dionne's wedding dress. Dionne used her mother's wedding dress from 1983, complete with lace sleeves and a high neck, and had it reworked into the dress of her dreams.

The two of them loved every minute of their Canmore wedding and we are excited to let you see a sneak peek of their big day.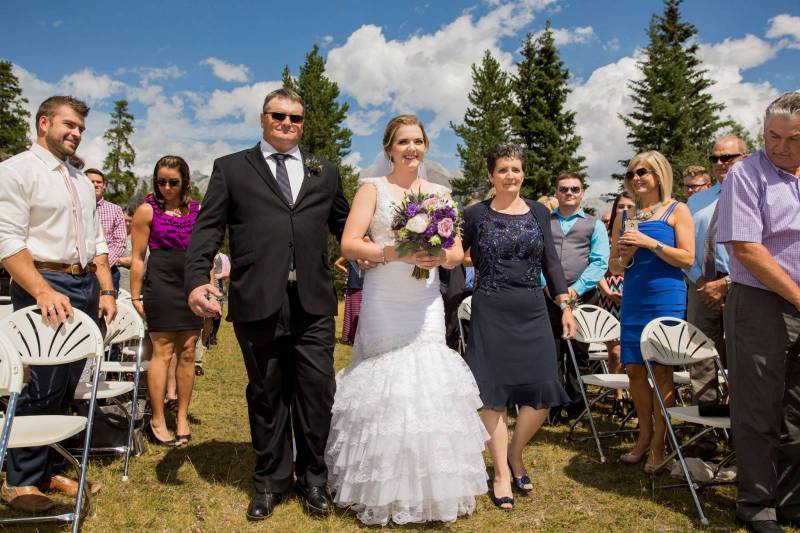 Dionne shared with us why they chose to get married in the Rocky Mountains and what this special location means to them:
"Coming from the prairies where it's endless fields and trees, the mountains are mesmerizing to us. I have always loved the mountains and after a short trip to Jasper a few years ago, we both really loved the scenery and serenity that comes with the beautiful Rocky Mountains. Also, both coming from different parts of Saskatchewan (our hometowns are 5 hours apart), we knew that a majority of our guests would be traveling to attend the wedding no matter where we had - so we figured they might as well travel somewhere more exciting than Saskatoon!! We chose a long weekend so guests could take more time to make a trip around our wedding and enjoy the time in the mountains, which many people did and really loved it. The backdrop for the ceremony and photos were more amazing than we could have imagined, even with some rain everything turned out wonderfully. Another benefit of the 'in Canada destination wedding' is that we will forever have a place to go to celebrate our anniversary and take our family that is very special to us."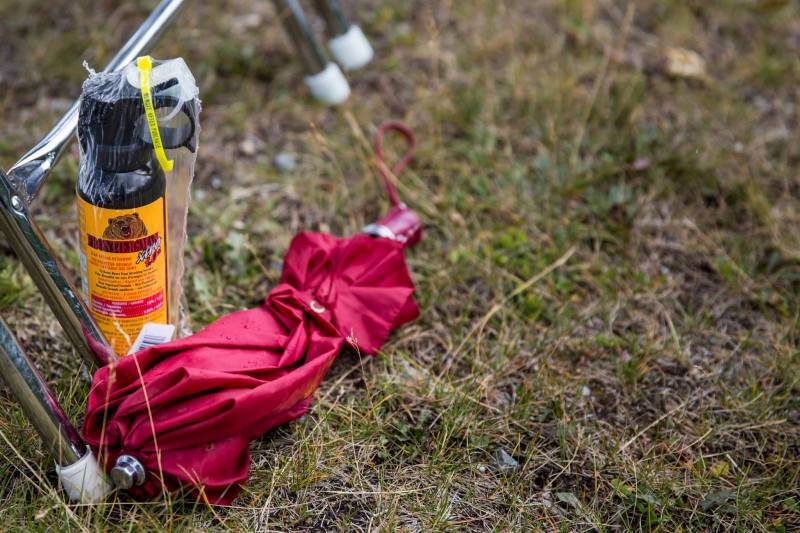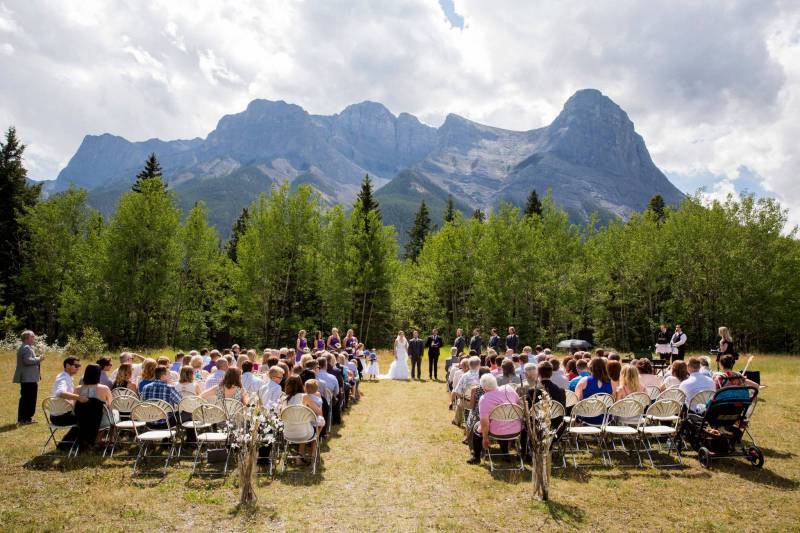 Dionne and Branden chose one of the most stunning locations for their outdoor Canmore wedding ceremony. The married at the gorgeous Rundleview Parkette with the most stunning views of Rundle Mountain, blue skies and green forests behind them. This location in Canmore is a semi-private grassy spot that feels incredible intimate and is simply breathtaking. The location seats up to 80 people which was absolutely perfect for their wedding.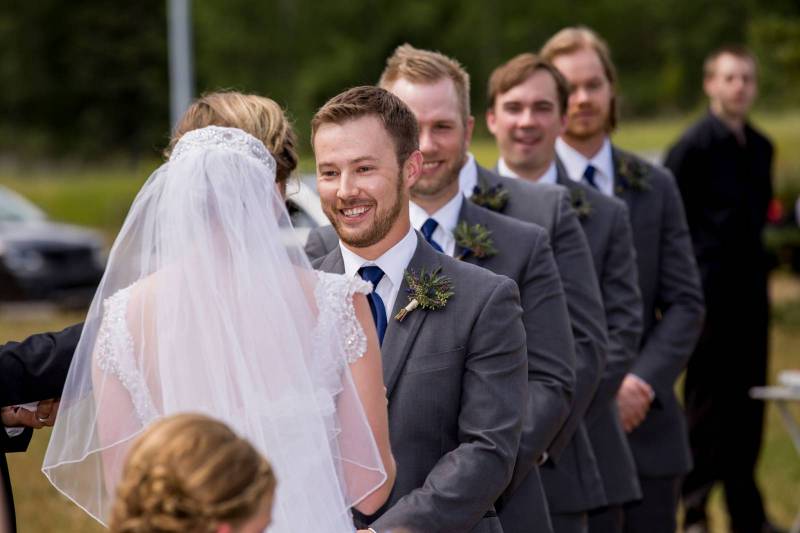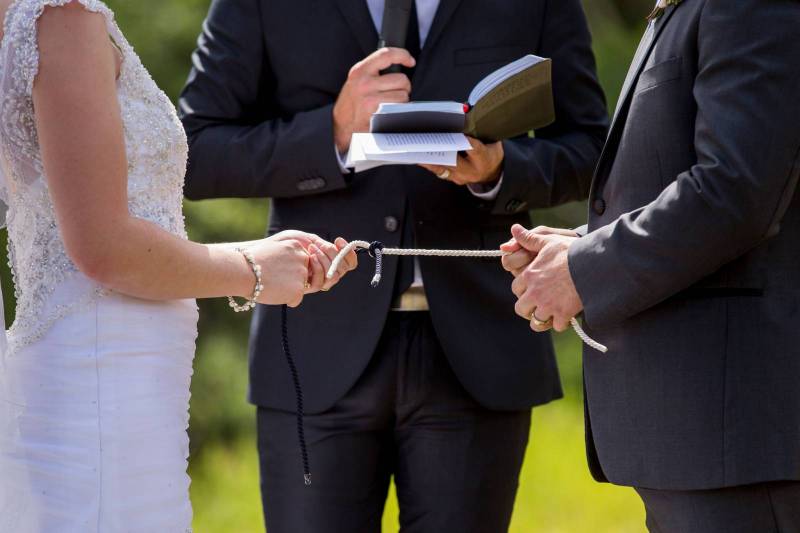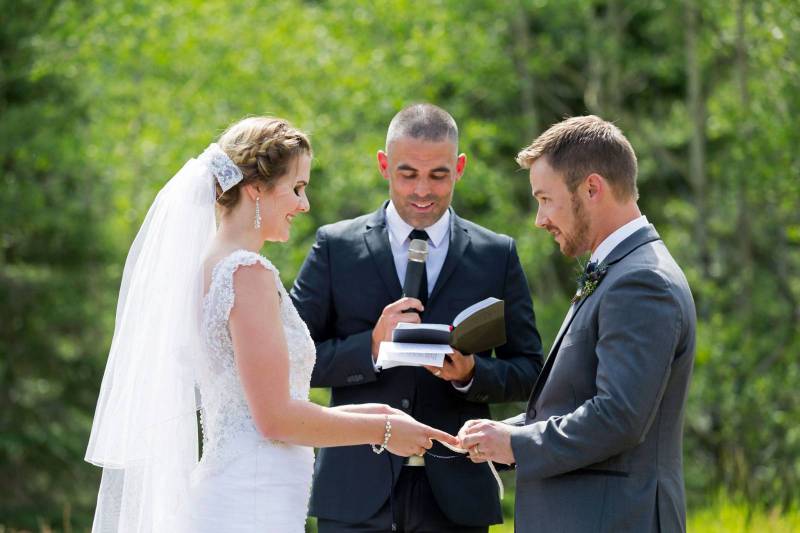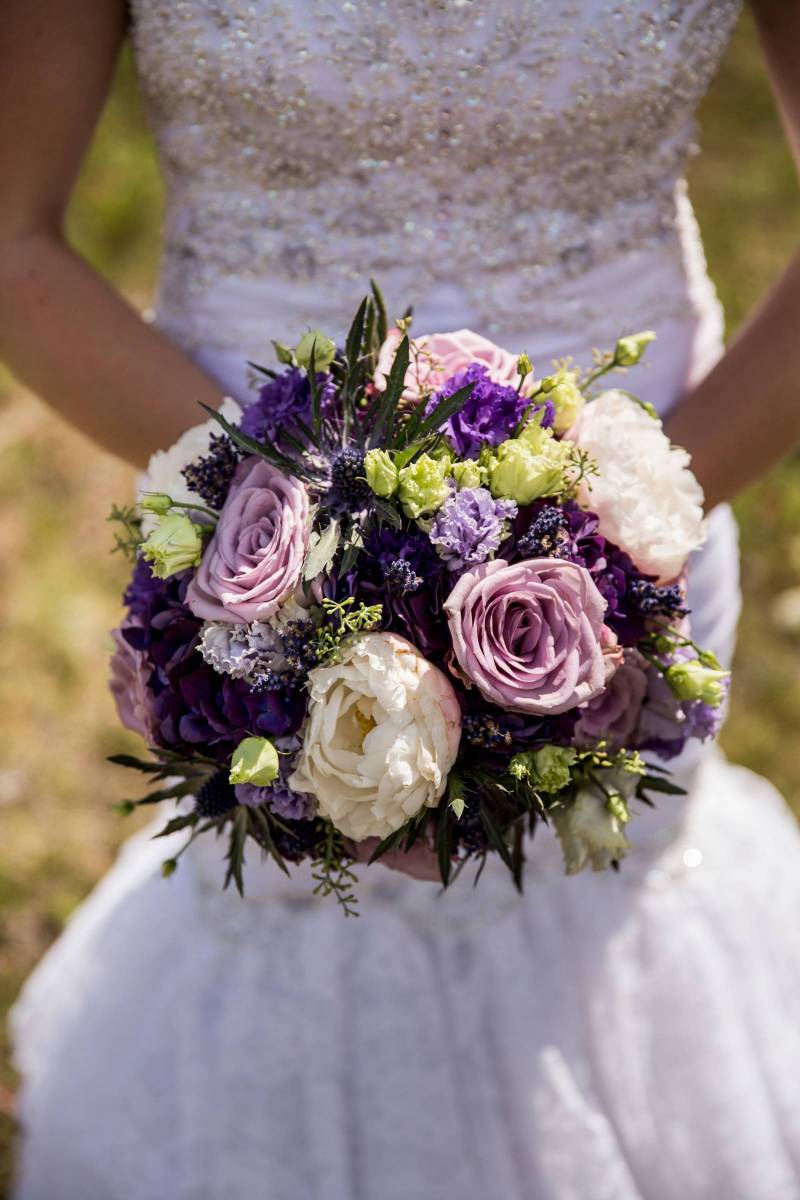 Dionne worked with the talented team at Willow Flower Company to create this stunning bouquet in beautiful shades of purple. The bouquet had a classic shape and roses but was accented with beautiful texture and natural elements.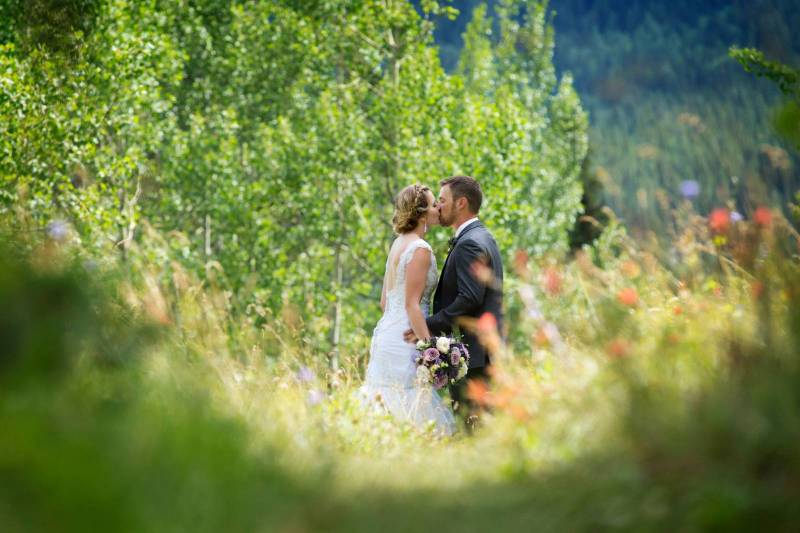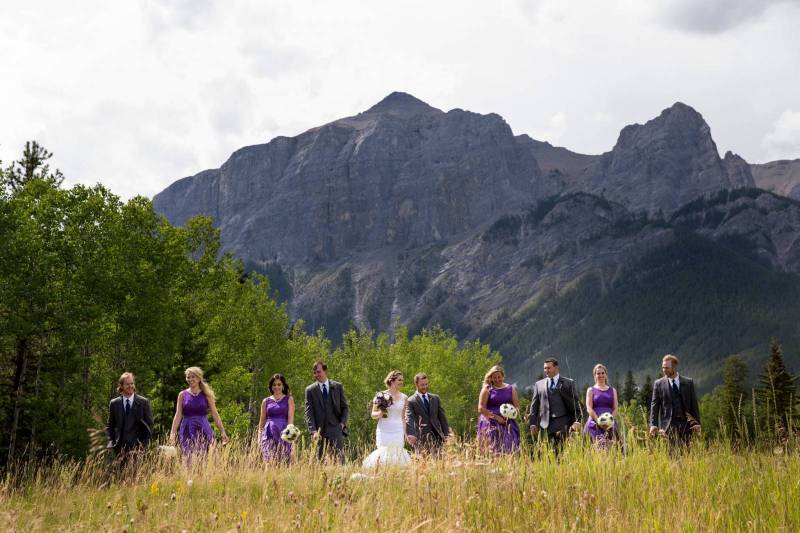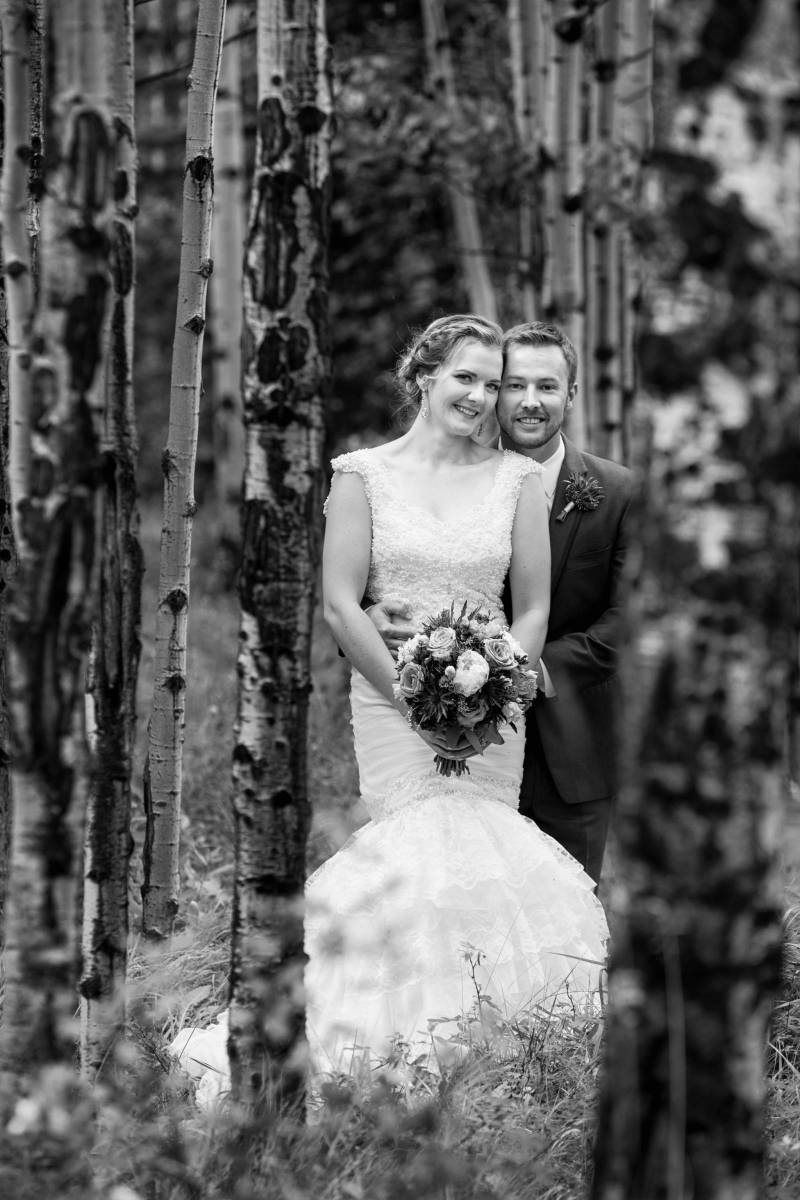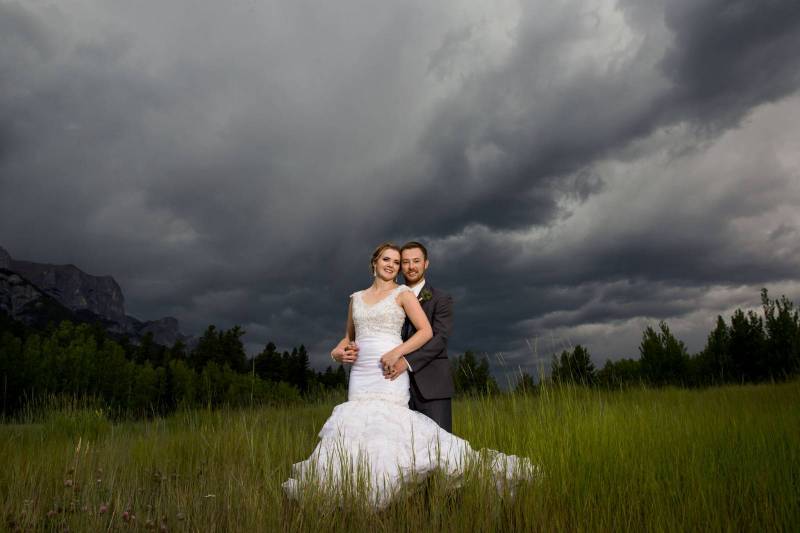 Dionne worked with a local Canmore makeup artist, Mountain Beauties for her makeup to ensure she looked perfect all day and for all of those camera flashes. Photoflow (Canmore wedding photographer) captured the intimate moments from their ceremony and all of their portraits beautifully.